Maximum expressiveness and exclusivity
Finish in perfection: diamond tools in the AXOR production process
After an exhaustive search, the designer's desire for a tap that shines like no other brought the AXOR experts to a technology originally designed for the optics and aerospace industries: the diamond tool. With AXOR products, the diamond tool is used to make the shiny surfaces and the diamond cut of the AXOR Edge taps.
When exclusivity is expressed through perfection and quality
Diamond tools are used in the optics and aerospace industries to ensure the ultimate in precision and a high-quality surface finish. AXOR product development experts also rely on a diamond tool in the manufacturing process, as it creates a top-quality shine on the surface finish and creates texture line by line, accurate to the micrometre. The result is a jewel that becomes a visual and haptic experience thanks to its shine and its diamond cut in various places on the product. The result is AXOR Edge.
The taps in the exclusive bathroom collection are unique gems. With AXOR Edge, designer Jean-Marie Massaud aspired to make a sculpture out of an everyday object. A sculpture that evokes emotion with its precision edges, shiny surfaces and refined textures. Just like in the jewellery industry, diamond tools are used to make AXOR Edge products. The highest accuracy, subtlest details and the very best materials guarantee perfection, quality and therefore an exclusivity far from the usual standard for complete refinement.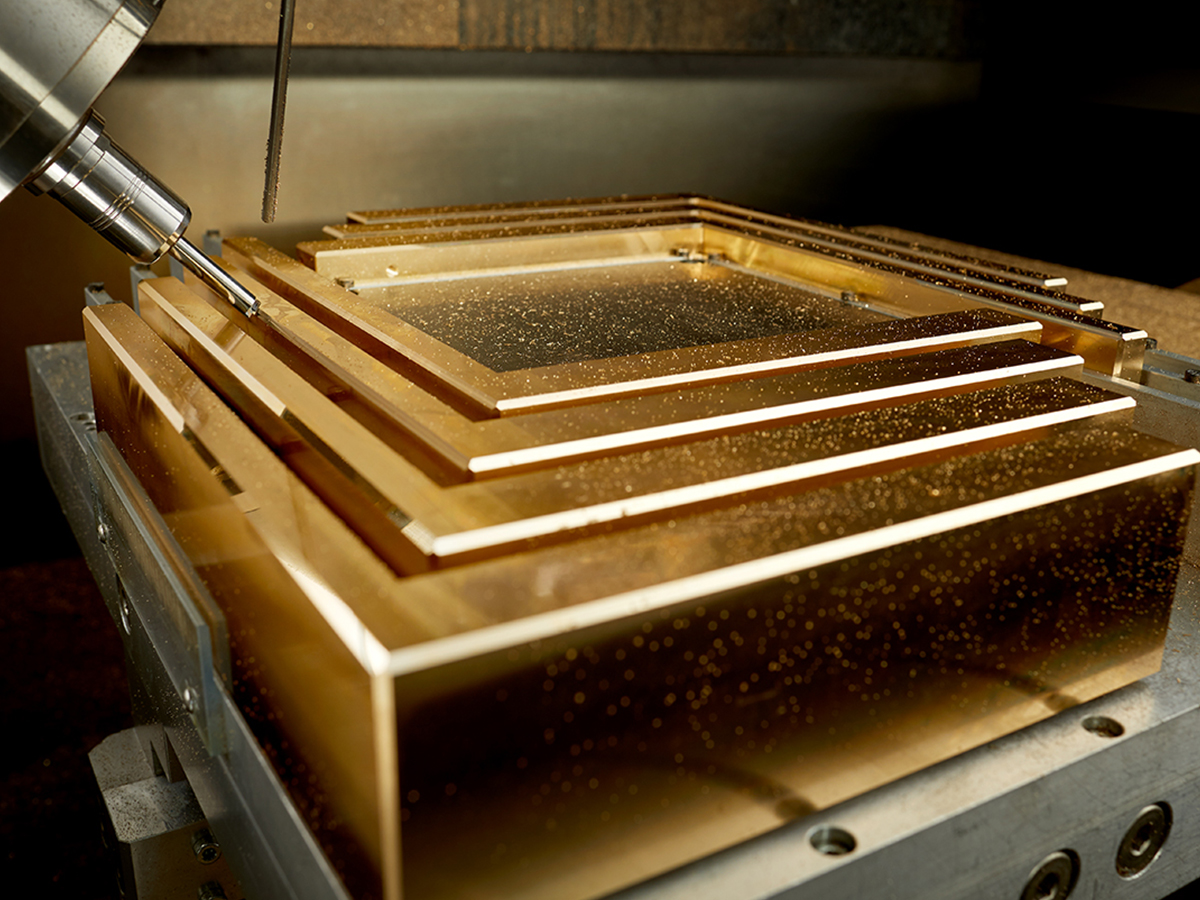 Diamond: exclusive key to absolute precision
The designer's desire for a tap with maximum shine posed a challenge for the AXOR product developers. They needed to produce even shinier surface finishes and edges with even more precision that reflect the light perfectly. The solution was to use a diamond tool, which can create the 45° bevel and the surface finishes in a never-before-seen precision and evenness. The bevels are created using a diamond tool and are so accurate that they join in exactly the right places. In the diamond tool, the surface finishes are made in perfection, without any unevenness or any need for further cuts or polish. After all, every scratch and every blemish caused by a grain of dust diminishes the result. The location of the diamond tool is also key: Good stability is the only way to guarantee no friction or vibrations. This sturdiness is ensured using six aerators, which balance out even the smallest movement from the ground below. And it takes time: The process takes twice as long as it usually would to cut and polish the product.

The textures refined with the diamond cut are made in the same process. Here, too, diamonds mill fine, textured pyramid shapes in the surface finish of the solid block of brass – with precision accurate to the micrometre and the most minimal of tolerances. Luxurious details of a sculptural tap that become a visual and haptic highlight at the wash basin, bath tub or in the shower.