Hose system for pull-out taps
sBox kitchen: more comfort, ease and tidiness at the sink
A pull-out kitchen tap extends the operating radius and is a major win for smooth workflows at the sink. The sBox kitchen is tailor-made for taps with a pull-out spray or spout. The hose coiling system is a reliable way to keep the hose tidy under the sink and makes all sink-based tasks more flexible and easier to do.
sBox + kitchen tap: a well-versed team at the sink – your selling points
The sBox kitchen comes as part of the package with numerous hansgrohe kitchen taps with a pull-out spray or pull-out spout.
The innovative sBox tidies up the clutter underneath the sink, and makes it really easy to use the pull-out feature.
The spray or pull-out spout are always simple to extend and retract with the sBox kitchen. There is no jamming or catching and the hose cannot be damaged.
A weight ensures the hose safely and quietly glides back into the box, and there are many installation options, even for low or narrow sink cabinets.
The perfect installation scenario would be in a vertical position beneath the tap. But if there are obstacles, e.g. a waste system, in the cabinet, the specialist can simply turn the flat box on its side to install it.
The customer-friendly sBox kitchen: say goodbye to jerking and wrenching with this smooth-flowing kitchen accessory
No matter whether the user has a single or double sink, is filling tall containers, cleaning vegetables or rinsing large plates: A kitchen tap with a pull-out function is a very convenient kitchen innovation. The combination of pull-out spout/spray and sBox kitchen expands your customer's operating radius to up to 76 cm (instead of the previous maximum of 50 cm). Not only that: The hose connected to the tap can always be easily, safely and soundly pulled out and retracted using the compact hansgrohe sBox kitchen.
All-in-one system for a maximum operating radius and long-lasting hoses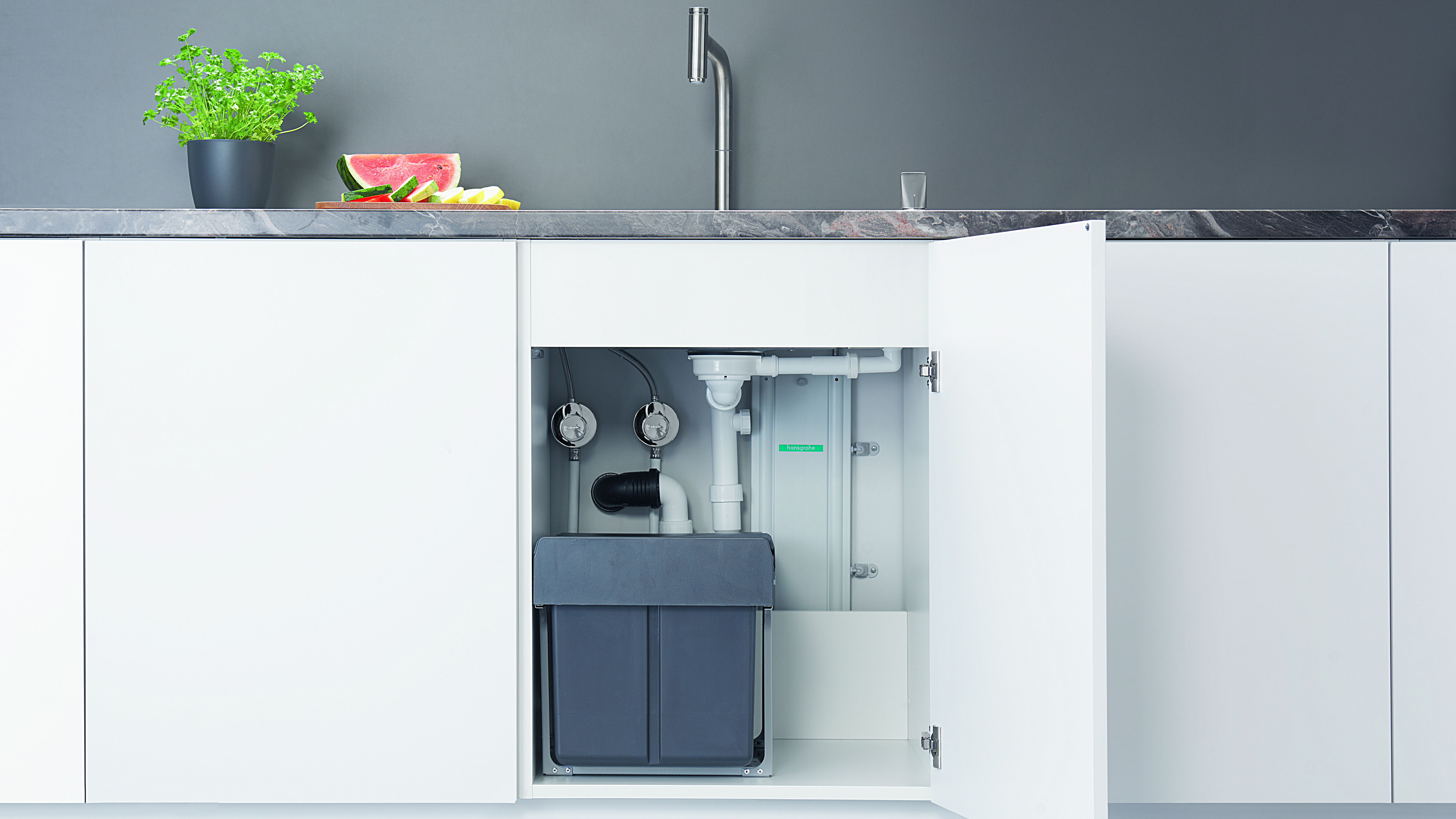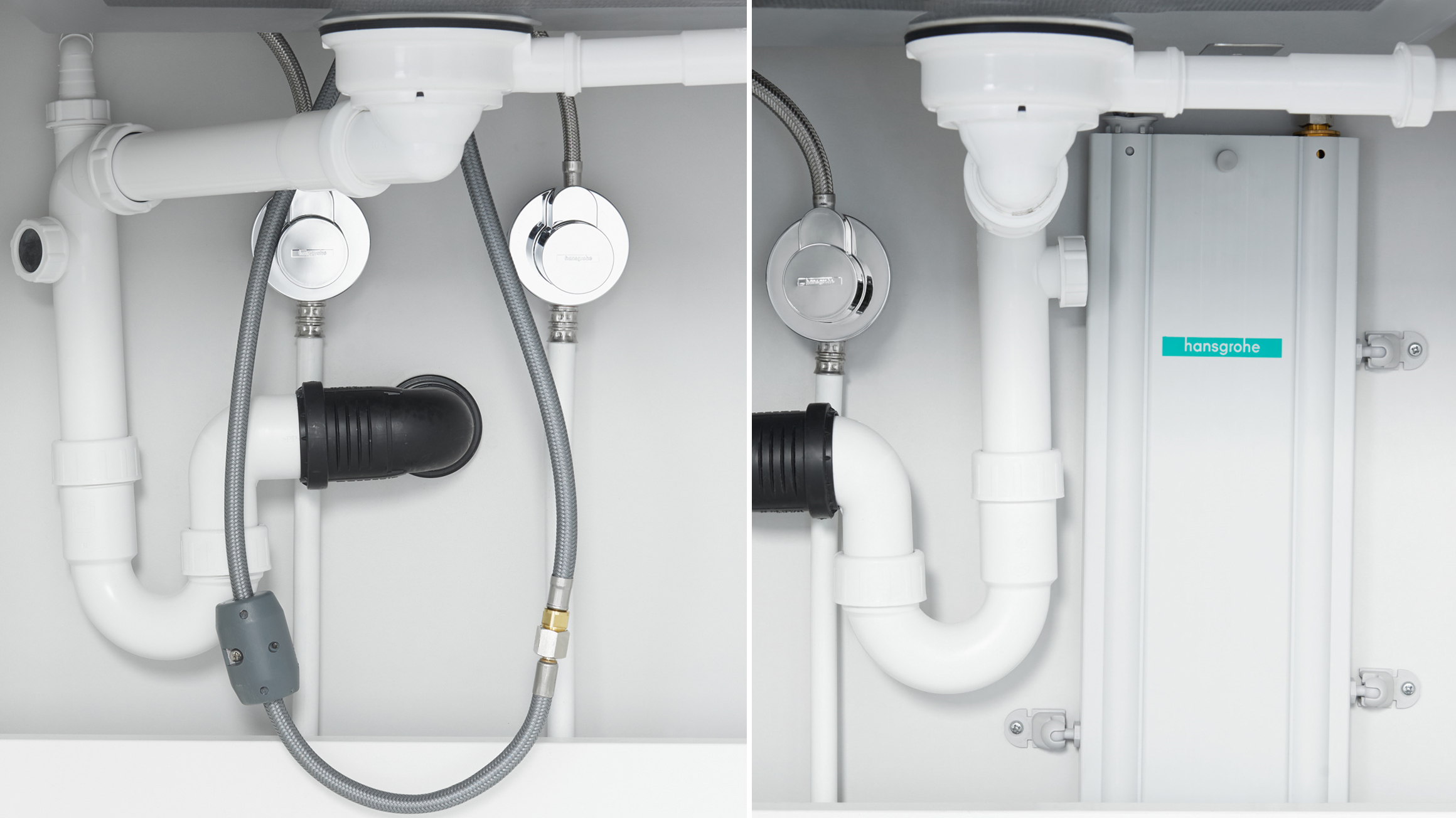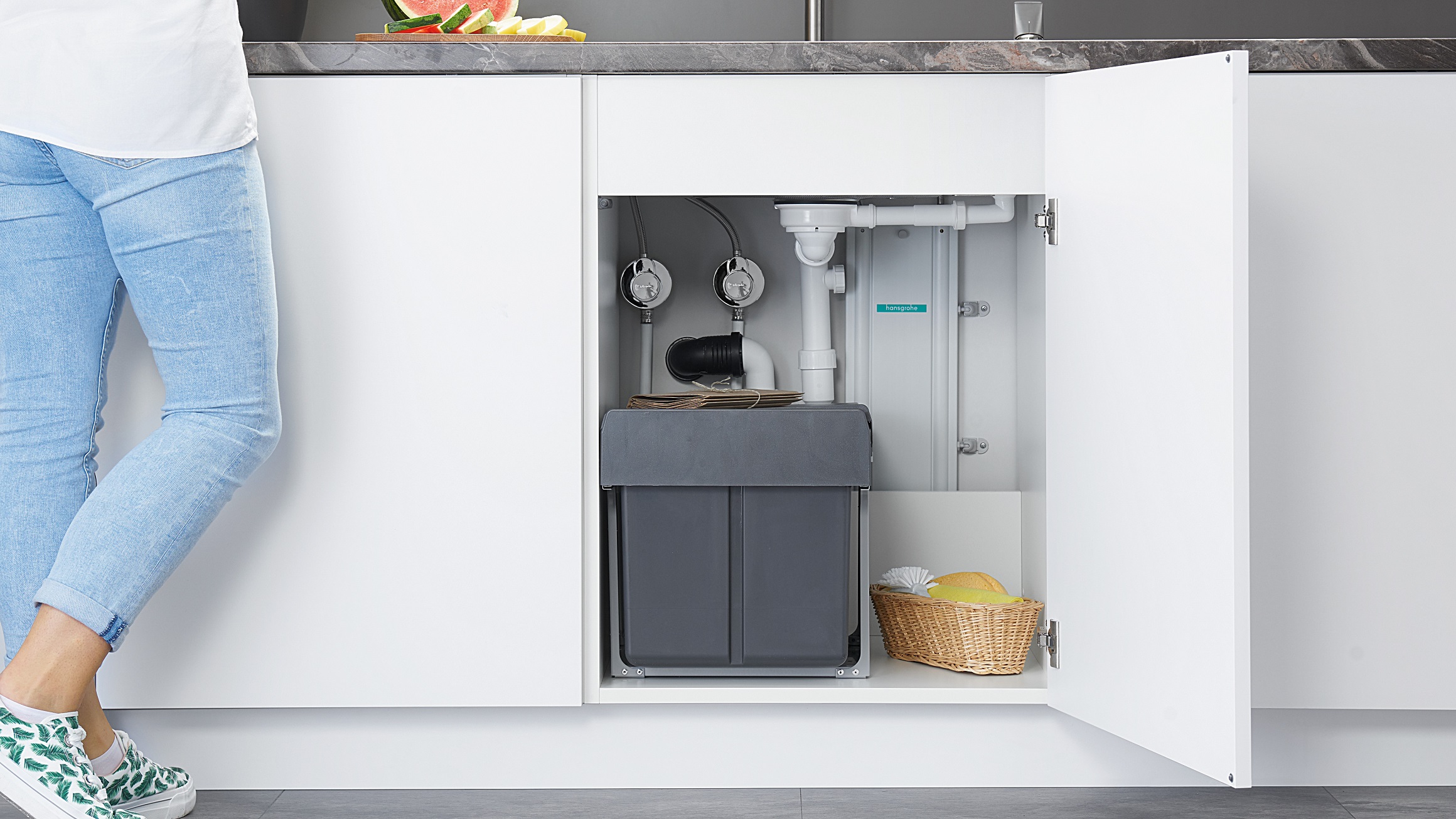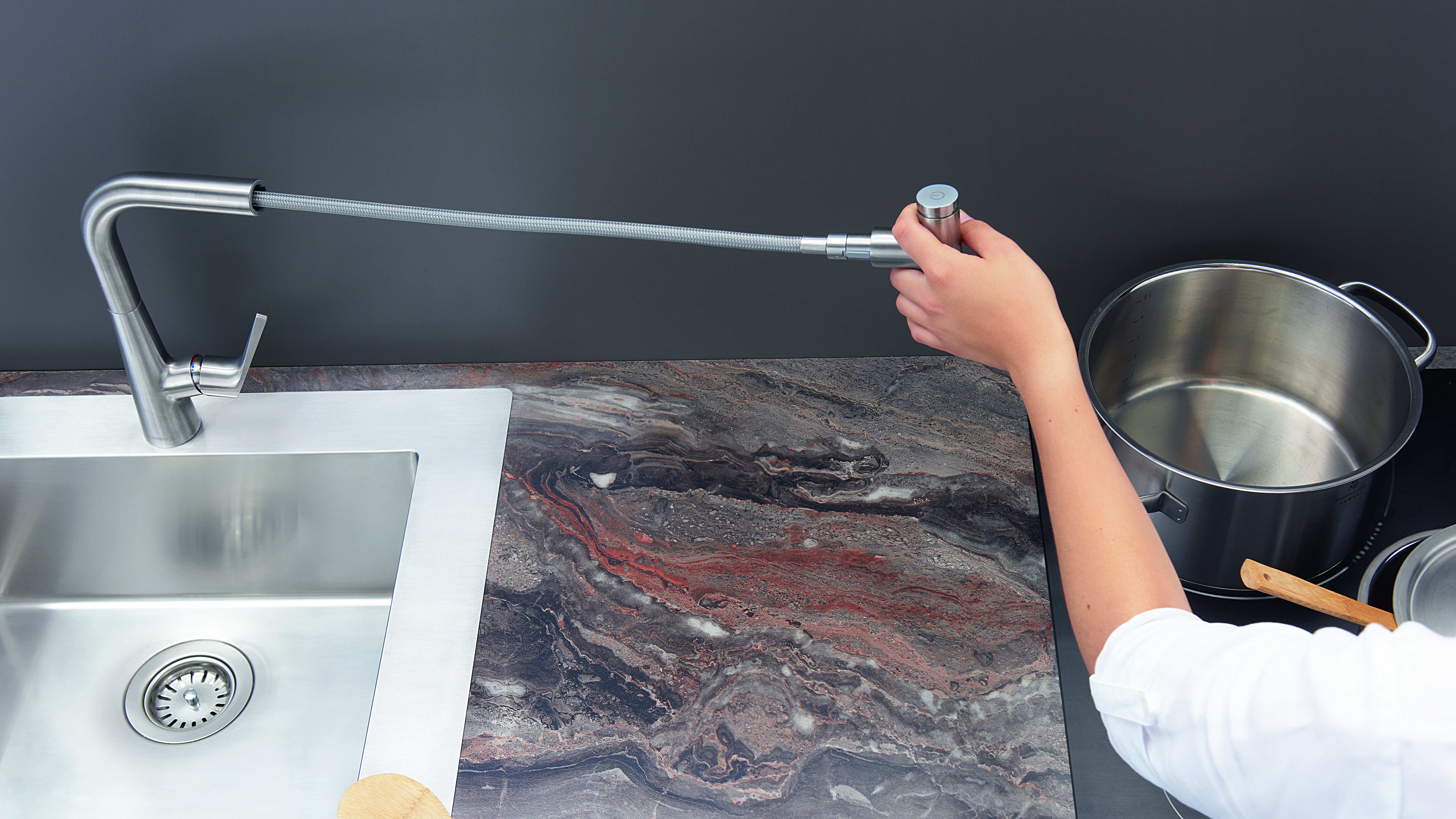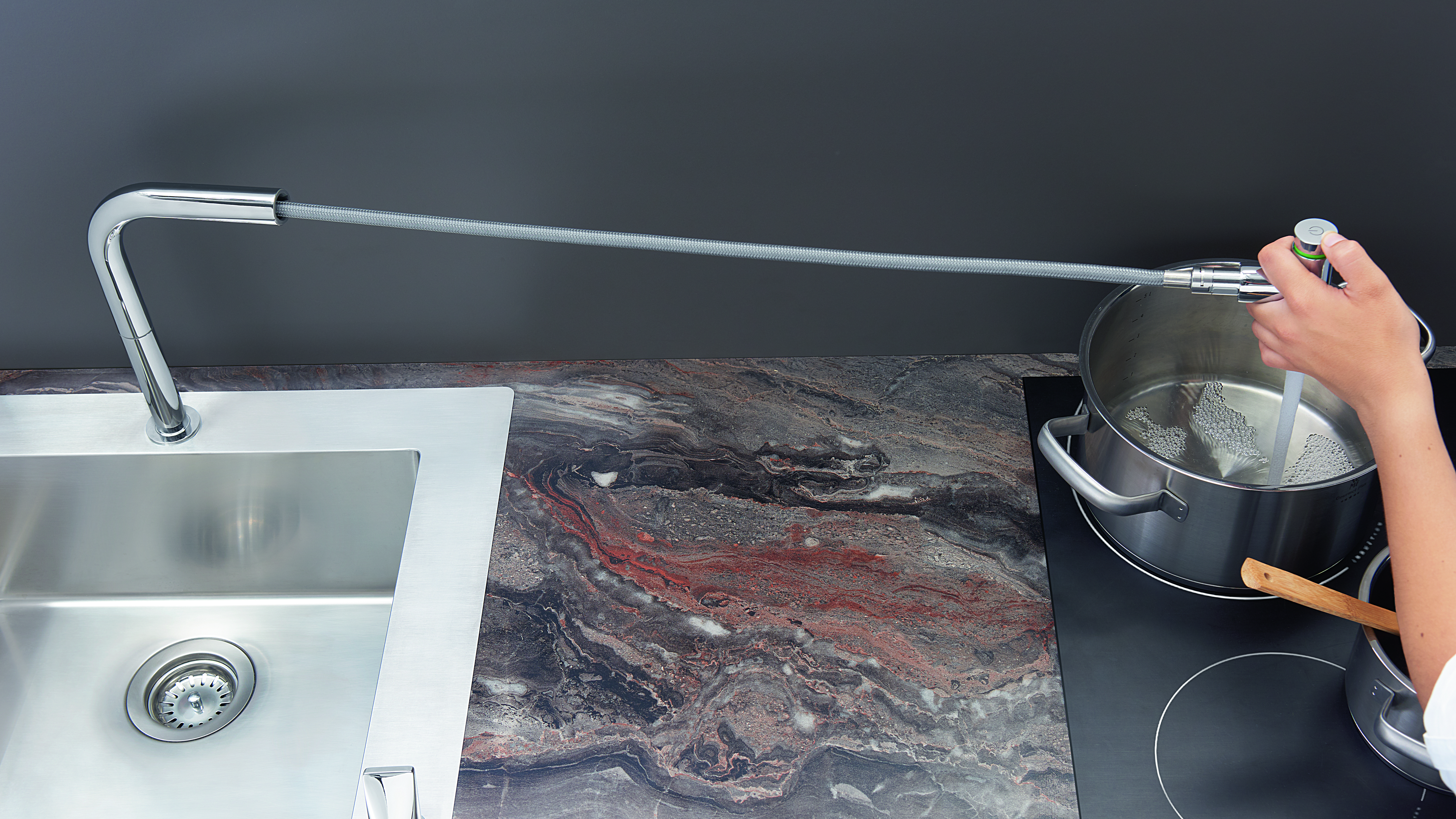 A selection of products with sBox for a flawless flow at the sink