Shower space? Water pressure? Throw range?
Find the perfect overhead shower for your customers
Every job is different. Sometimes you'll find a tiny shower space, other times your customer will want a room-sized walk-in shower. There isn't always enough water pressure for the large installations. Which overhead shower do you recommend, and to whom? That's what this shower space guide for sanitation professionals is all about. We strengthen your consulting skills with clear, precise planning examples.
Concrete assistance for planning shower areas
Finding the right overhead shower for their home shower space out of the abundance of options available: It can be overwhelming for many of your customers. A large area needs to be used to its full potential, while a small area can't be overwhelmed with splashes. Sanitation professionals first have to pick out the perfect overhead shower from all the different assortments. Not easy.
That's why our focus here is on angle-adjustable hansgrohe overhead showers. They are true adjustment wonders in the dream shower – and the solution to many a shower space problem. Not so familiar with the different angled throws yet? We can fix that.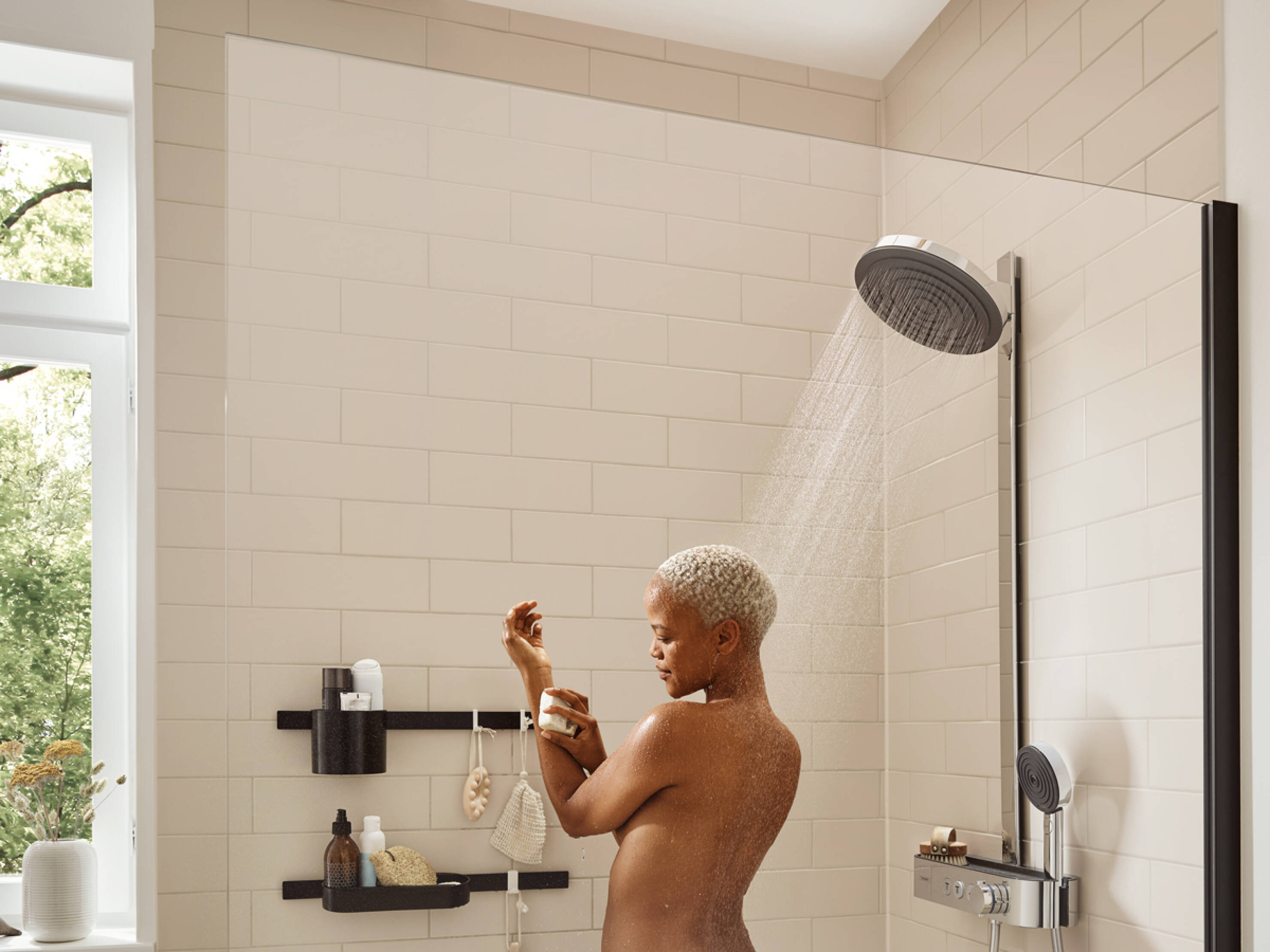 Our planning examples focus on the following lines with flexible shower arms:
These hansgrohe rain showers with wall connection set new standards in shower design, each in its own price segment. And they provide sensuous, feel-good experiences thanks to the microfine PowderRain spray mode. 
Find out how these kinds of feel-good sprays are scientifically developed at hansgrohe below.
Which overhead shower for which shower space?
Whether it's a mini shower cubicle or a spacious walk-in shower: hansgrohe rain showers with angle adjustment can adapt to the individual bathroom architecture of every customer. When installing them, however, you'll need to keep a few figures and measurements in mind.
What factors determine the choice of overhead shower?
Size of the shower space
Diameter of the shower
Throw range of the water spray
Pressure conditions
hansgrohe showering pleasure on the test bench
Important for the selection of the right rain shower: Most overhead showers require a minimum flow rate to create a beautiful spray pattern and provide feelings of wellness. You can check the required values with us online, available in the planning data flow diagrams, which you can download for each shower.
Our practical test on the shower test bench shows clear results for pressure and throw range. You can find more info about all the parameters further down this page.*
Shower area? Dry area? Wet area?
Now for your installation work. Please determine the available shower area that you should plan. Note: Some of your customers have a dry zone in the shower with room for towels, robes, or seating that needs to stay dry. Be sure to plan for this space buffer in rain showers with sloped surroundings. The values in our planning examples refer to the wet area.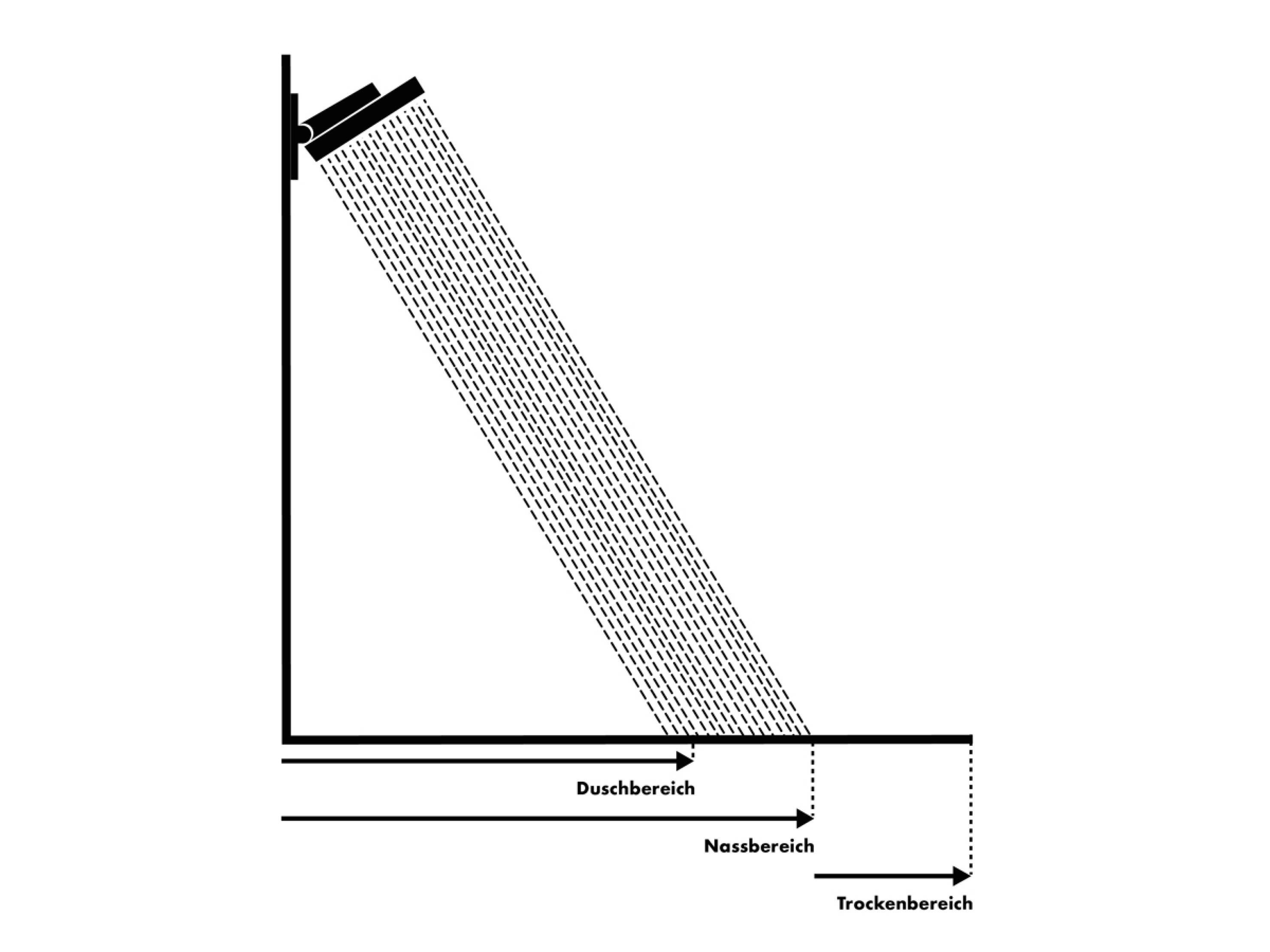 To perfectly plan the existing wet area, click on the symbol with the area dimensions. This will take you directly to the corresponding planning example.
Optimal rain showers for shower areas up to 90 x 90 cm
This is the shower space most customers have. With the common shower area of 90 x 90 cm, you can recommend and install all three angle-adjustable hansgrohe overhead showers:
Pulsify S 260
Rainfinity 250
Rainfinity 360
The flow pressure and inclination angle differ in the example throw ranges.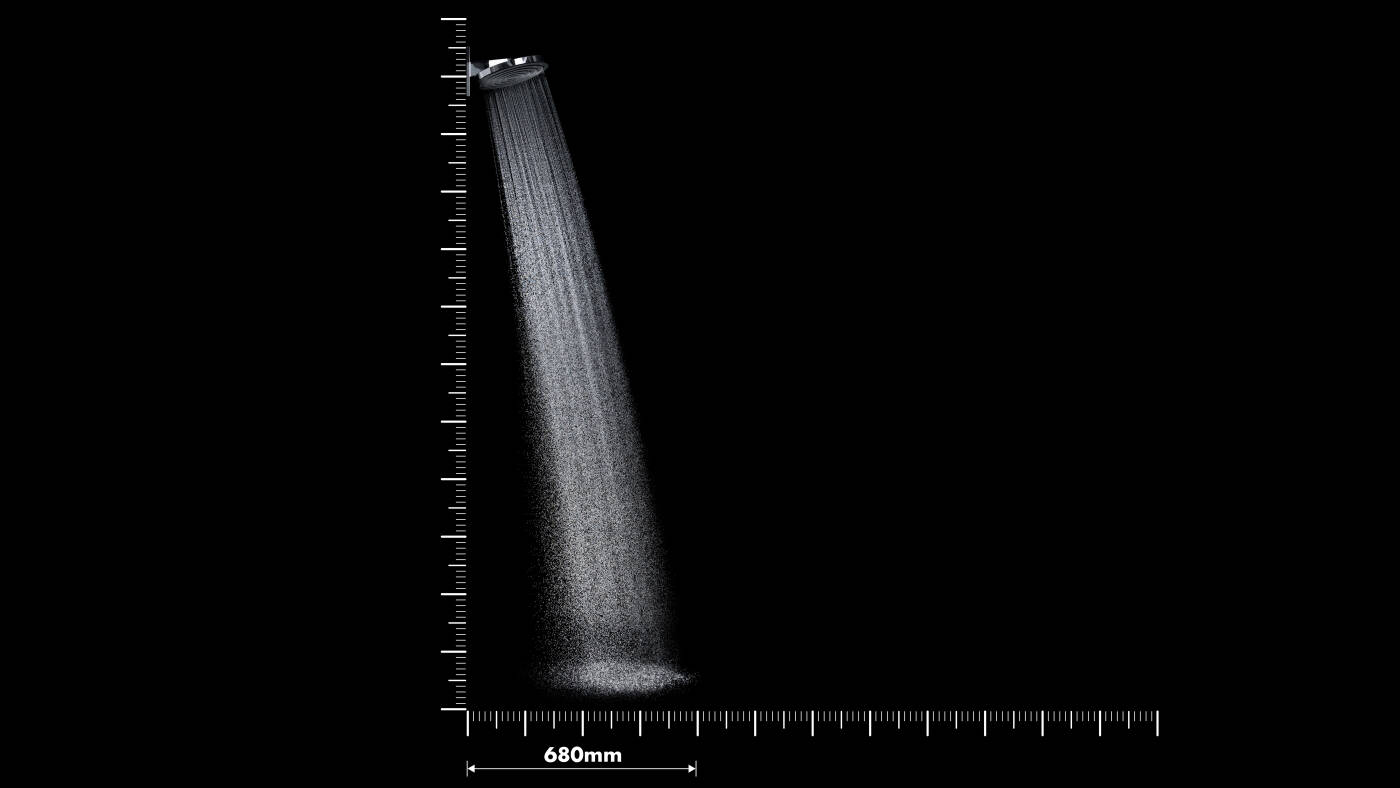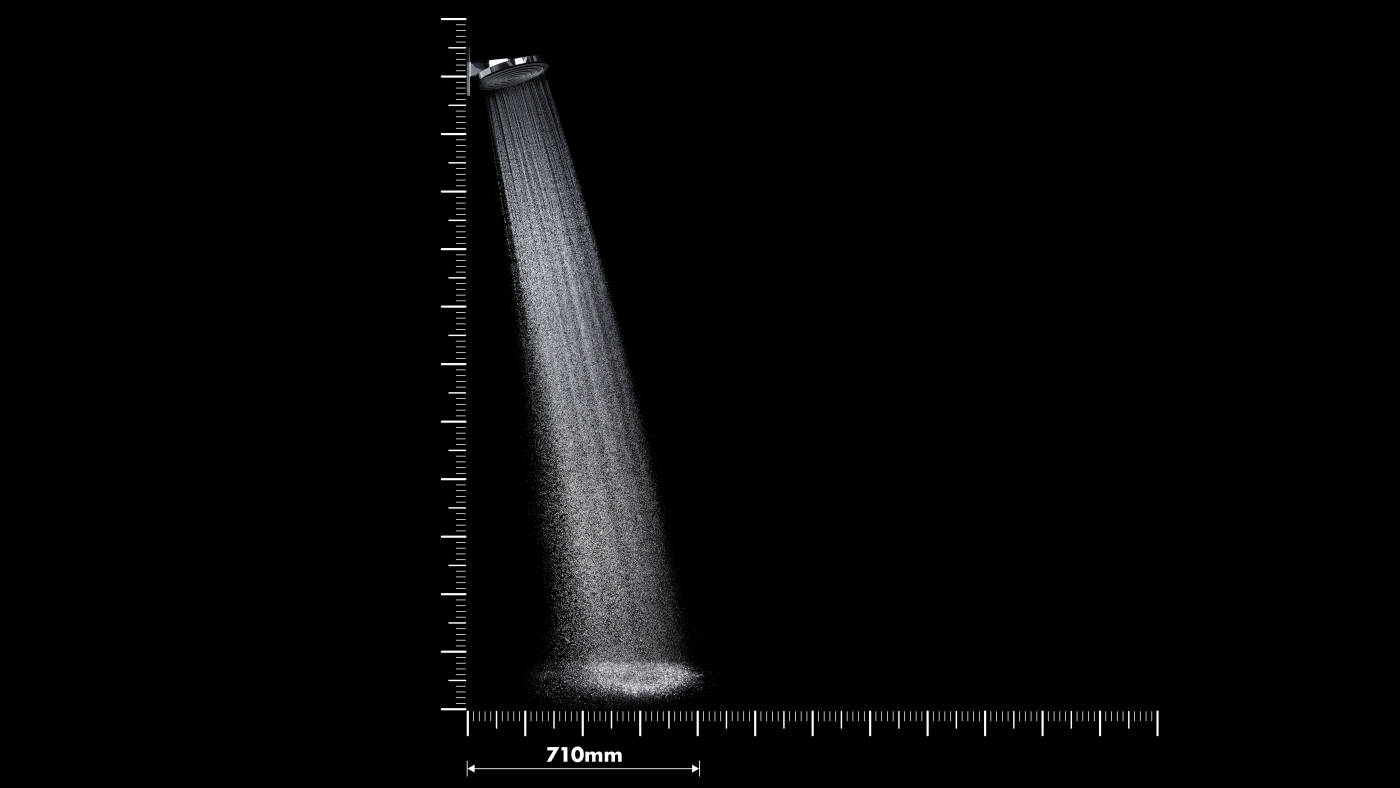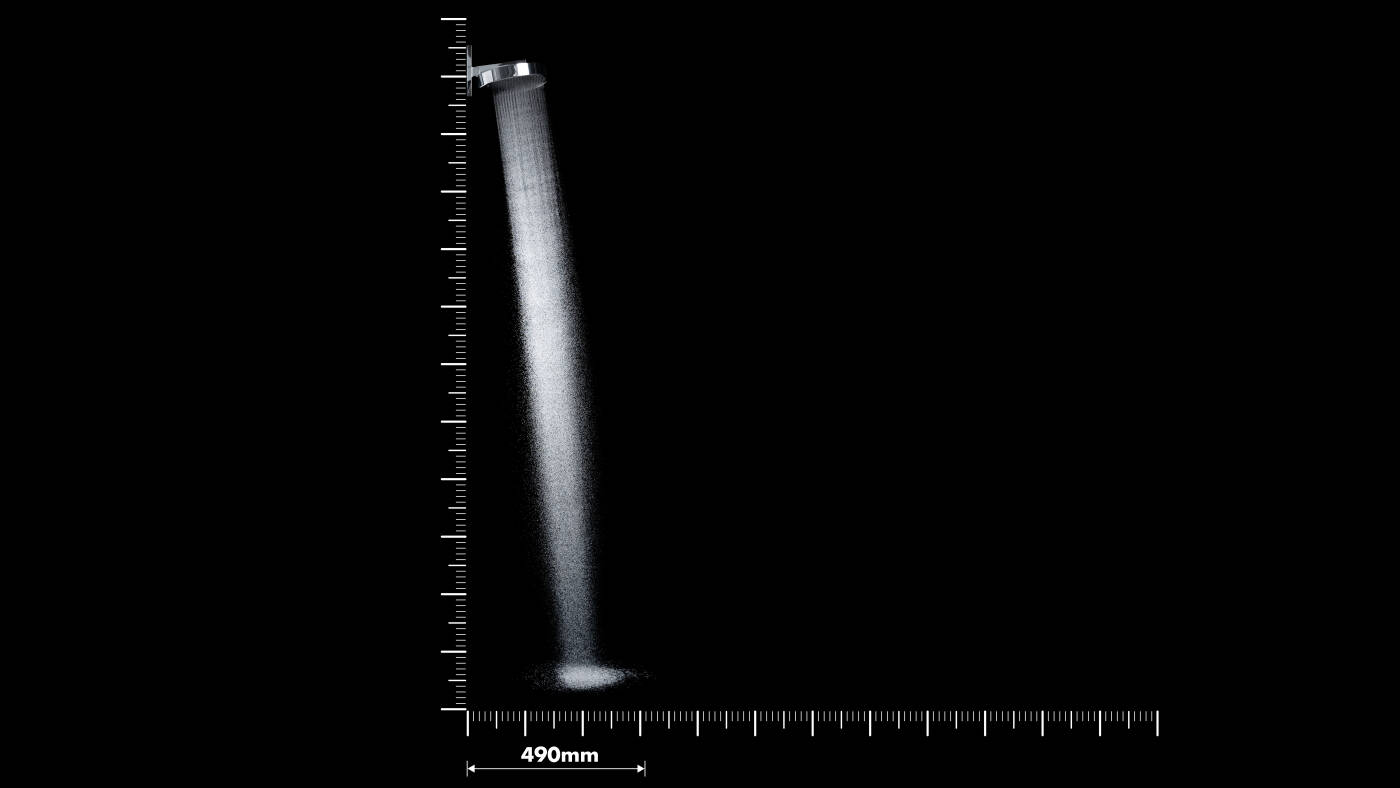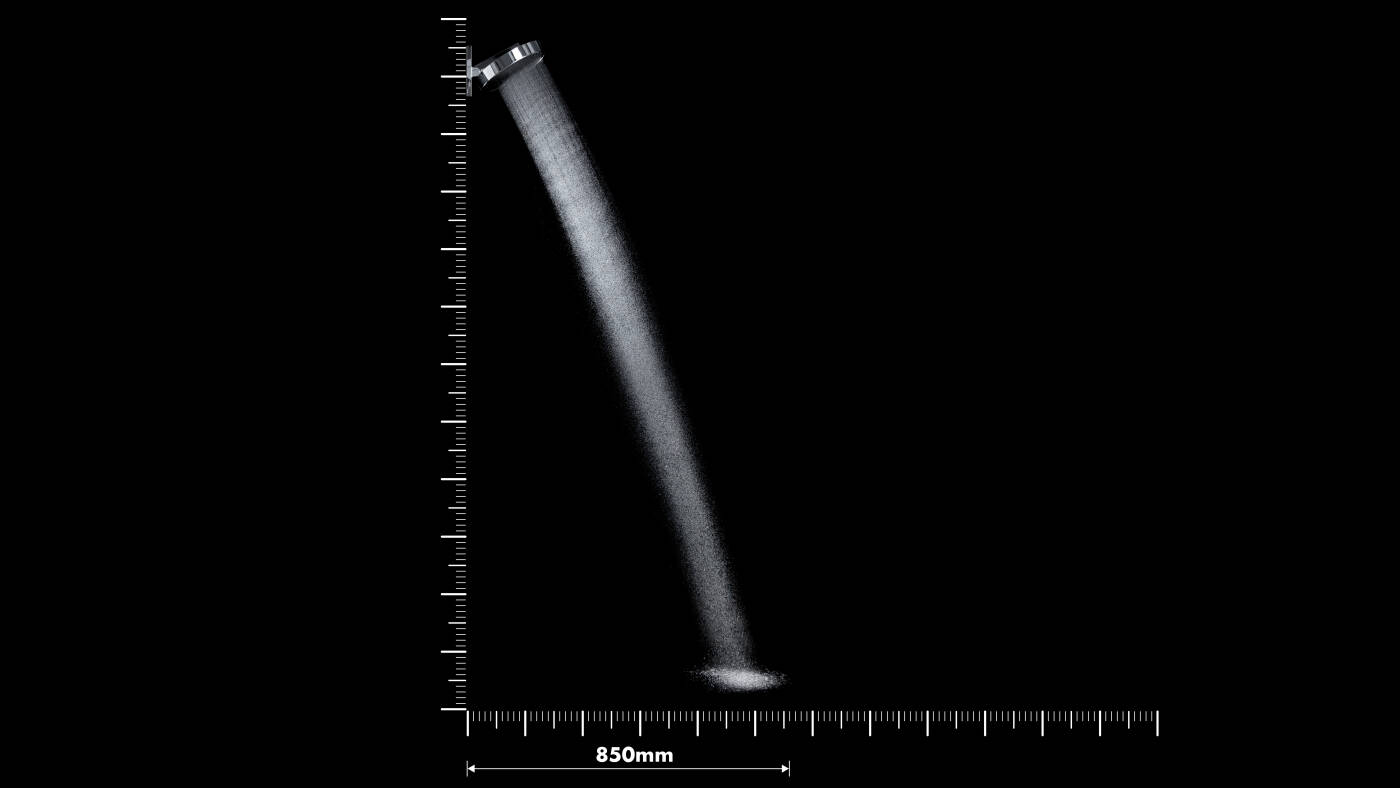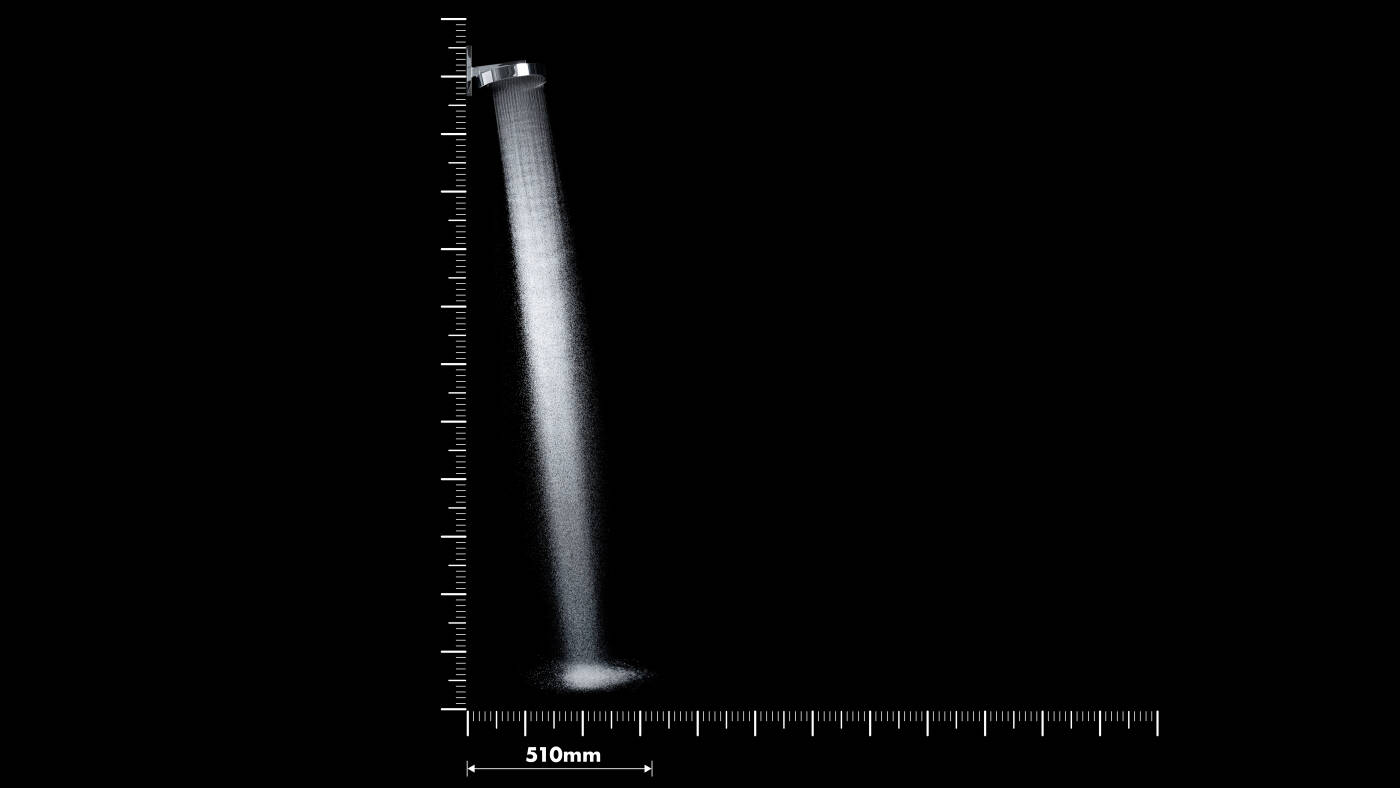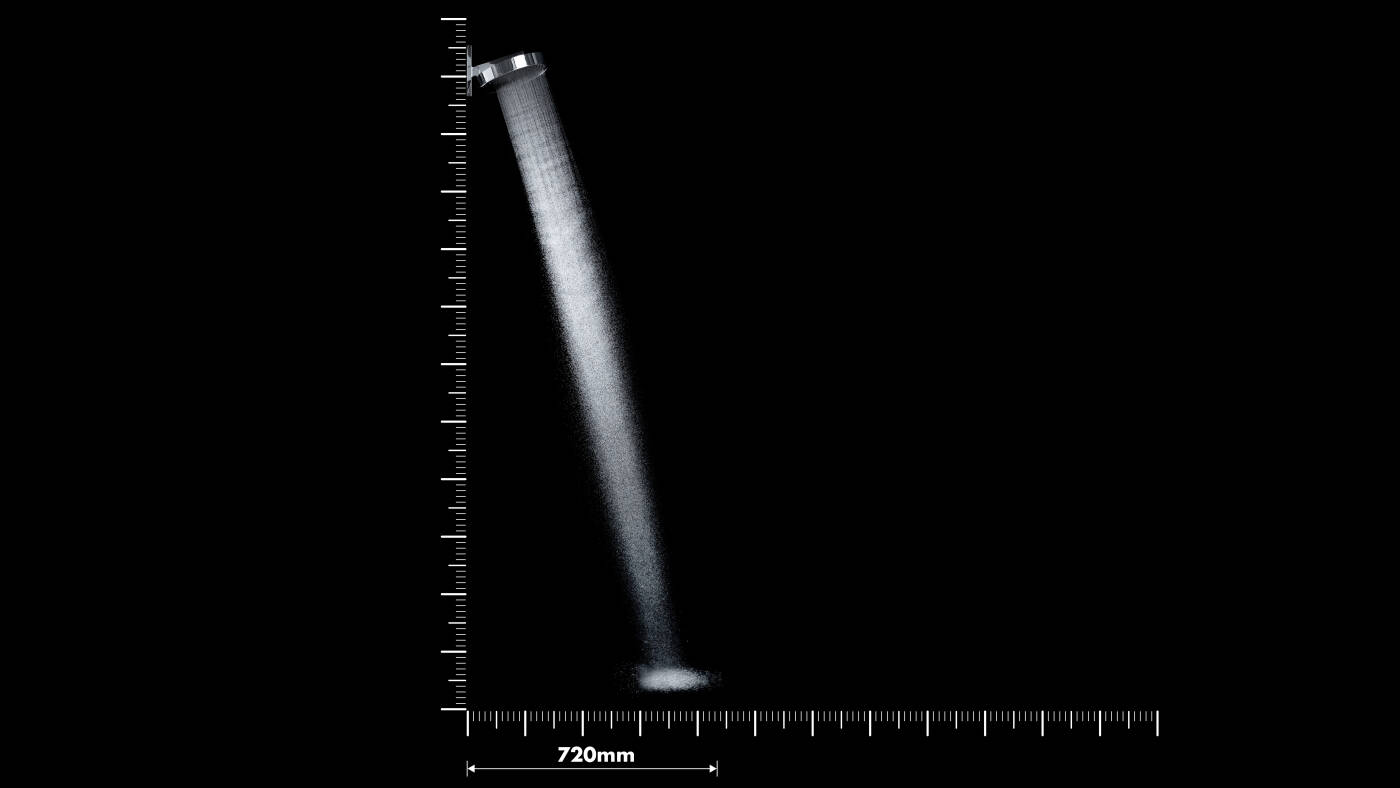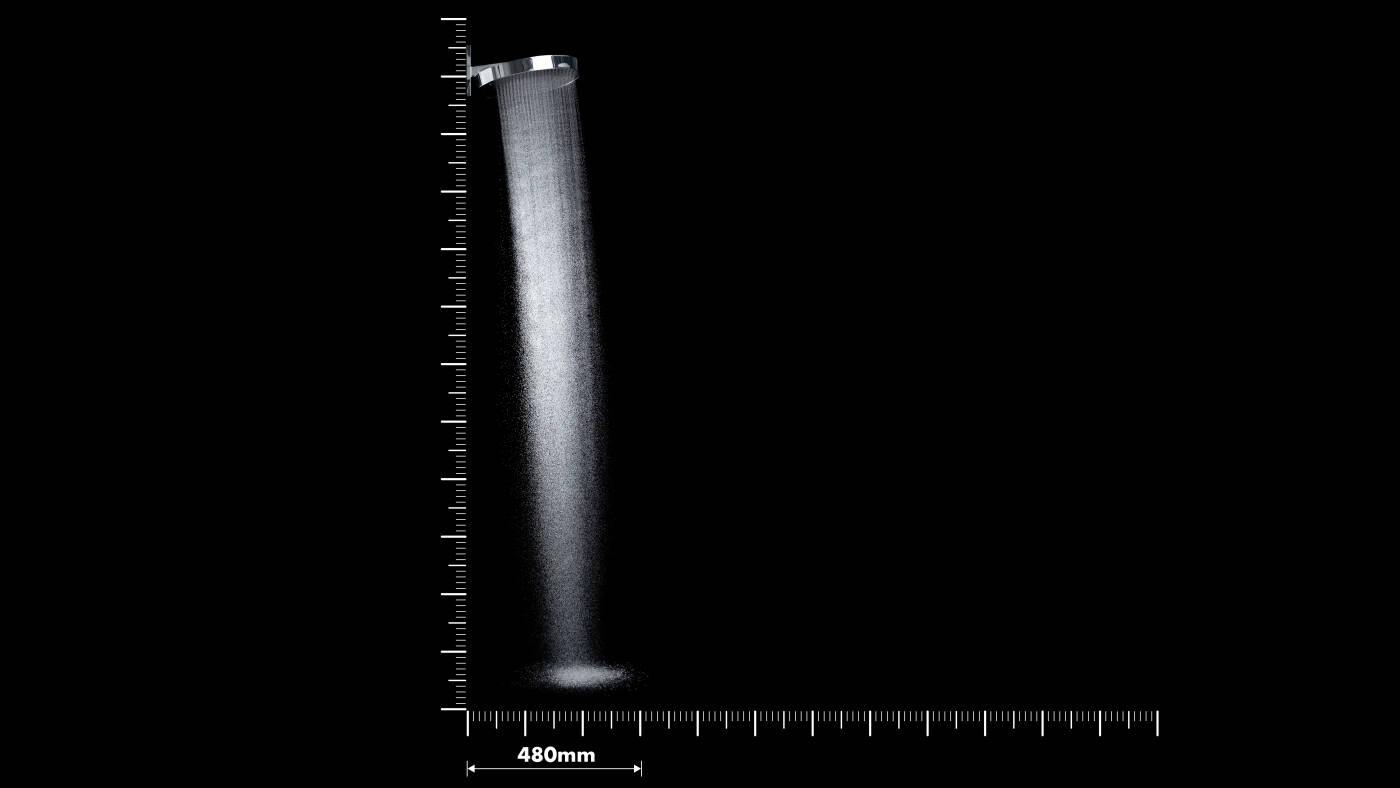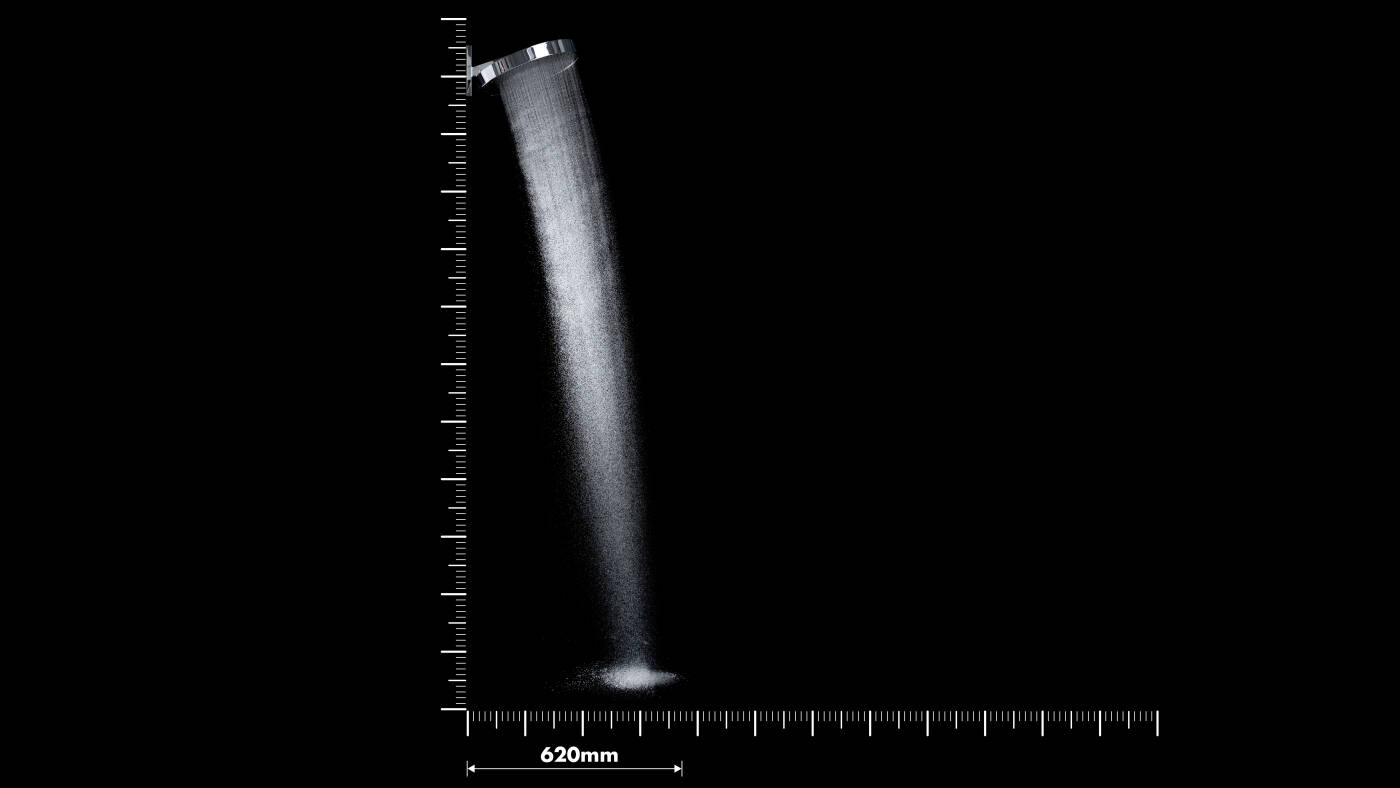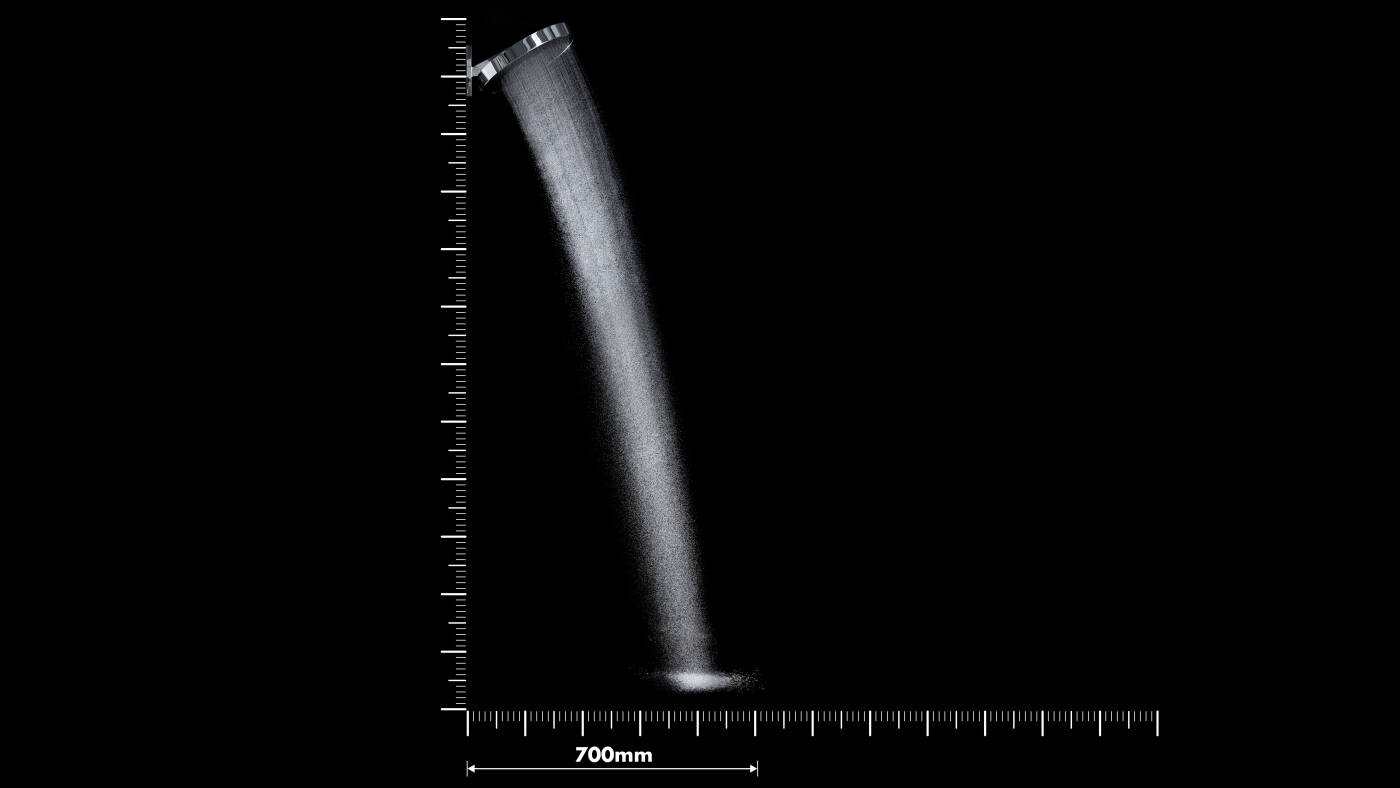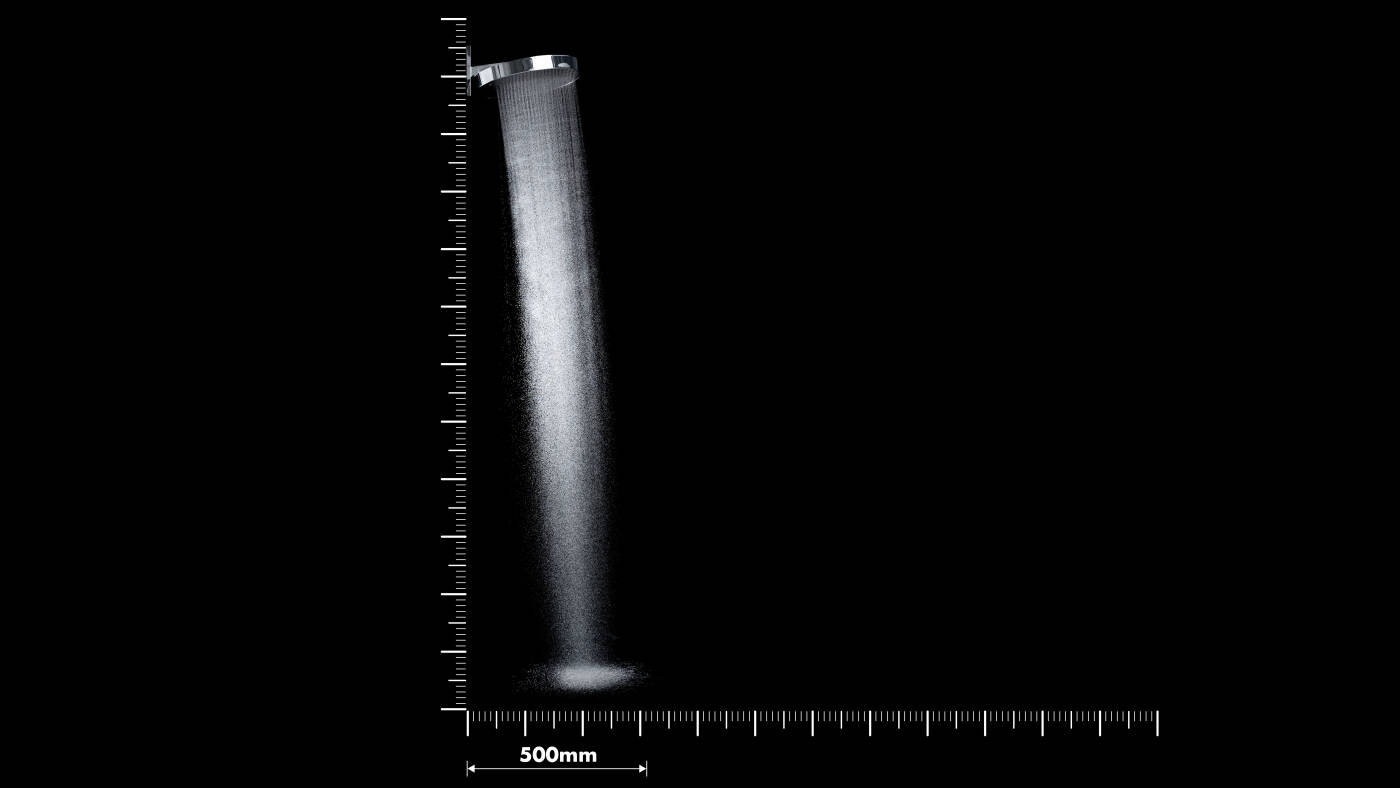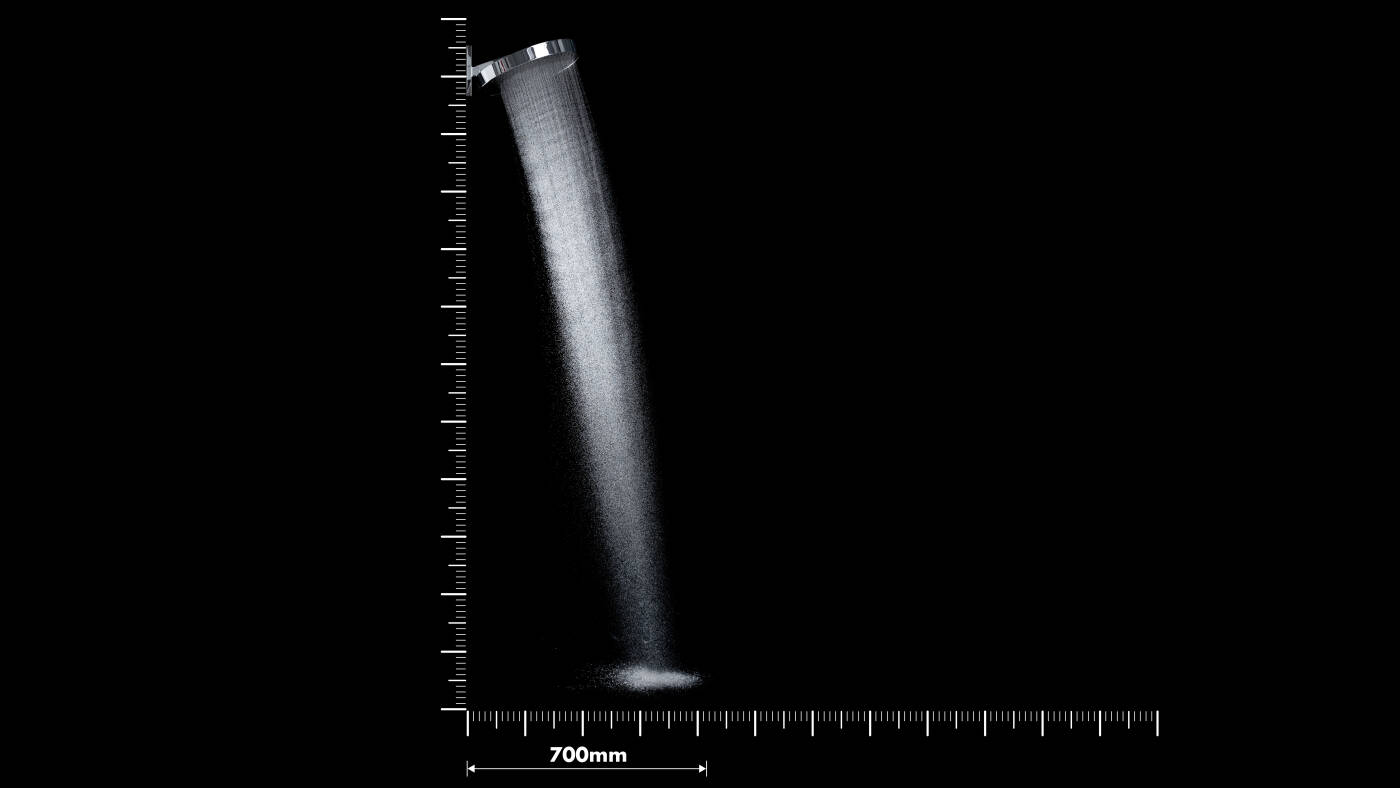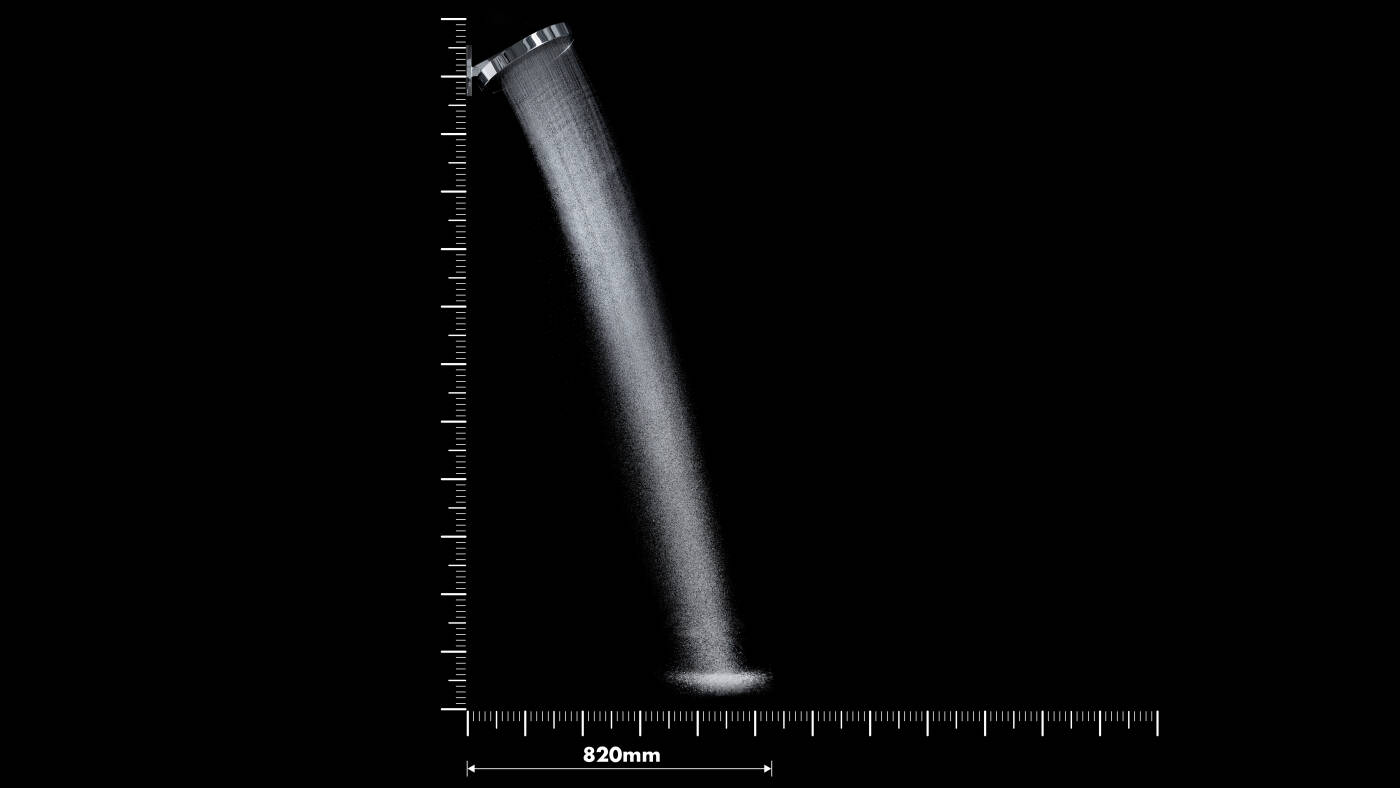 Pulsify S, shower-mounted: The perfect allrounder
For shower areas measuring 90 x 90 cm, hansgrohe has the perfect all-rounder for every job: the Pulsify S 260 overhead shower with PowderRain installed on the ceiling. This downpour version of the Pulsify model can also be mounted individually thanks to the variable length and position of the shower arm. The shower arm, available in lengths of 240 and 390 mm, is centered on the ball joint.
Example calculation for installation:
Divide the diameter of the spray pattern at the bottom, of about 450 mm at 2 bar, by 2 = 225 mm. 
For the 225 mm model, add the length of the shower arm plus the wall distance to the shower arm (for exposed installation systems).
With a shower arm of 390 mm length and 50 mm wall distance, this results in a throw range of 665 mm.
In addition to Pulsify S, the hansgrohe range offers a variety of ceiling-mounted overhead showers that are ideal for smaller shower areas.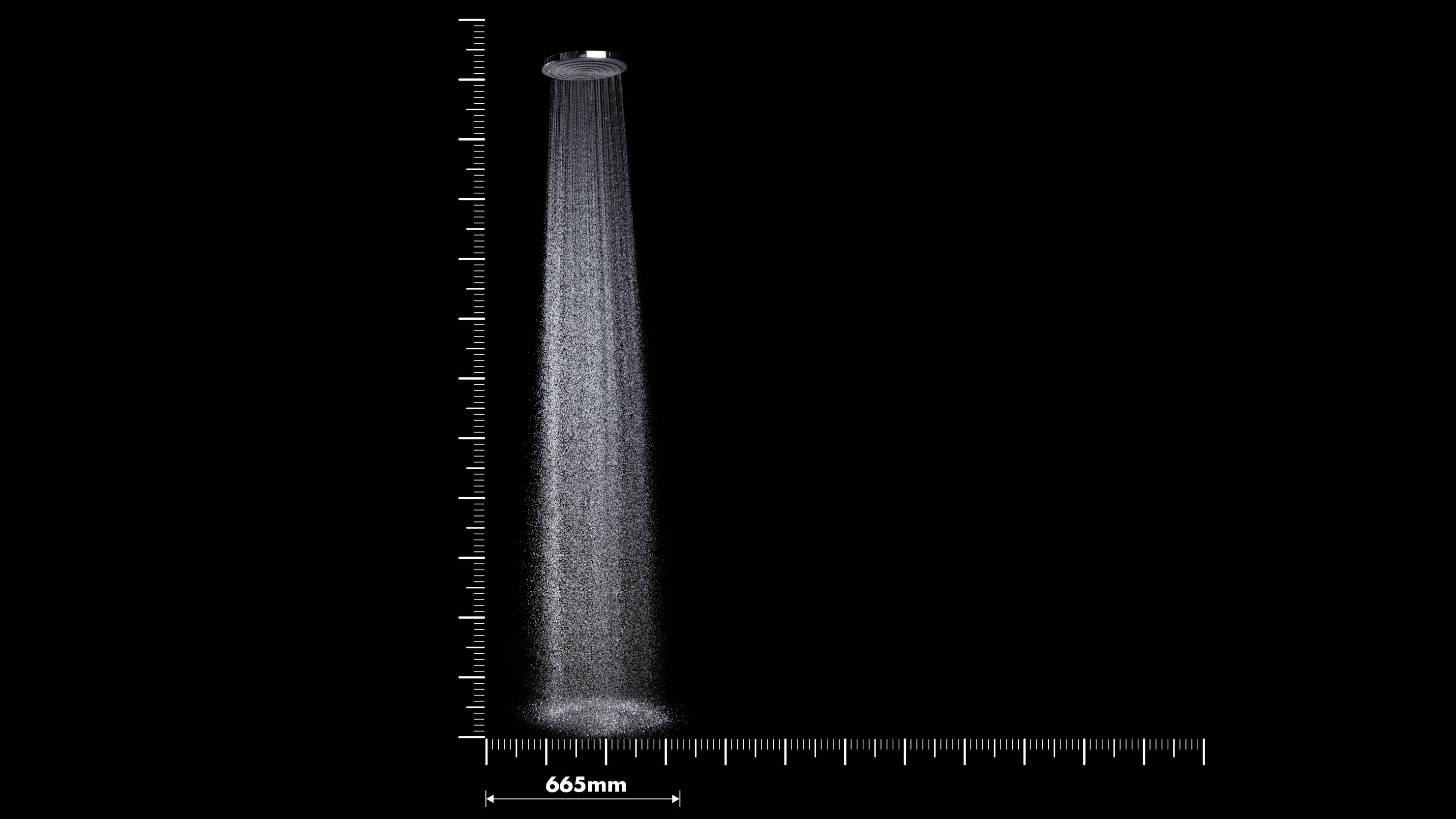 Optimal rain showers for shower areas of 100 x 100 cm
For a shower area of 100 x 100 cm, you can recommend and install these two hansgrohe overhead showers with adjustable angle:
Pulsify S 260
Rainfinity 250
The flow pressure and inclination angle differ in the example throw ranges.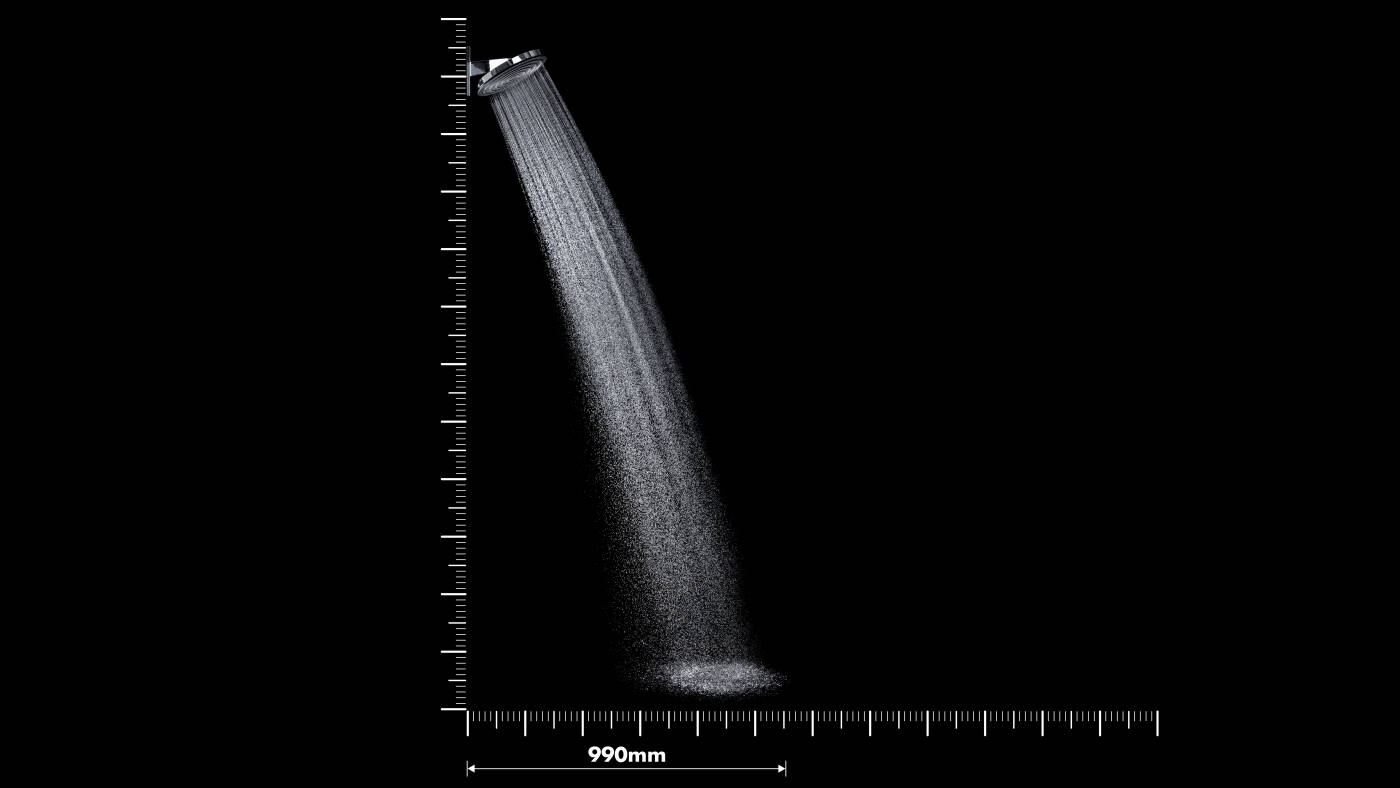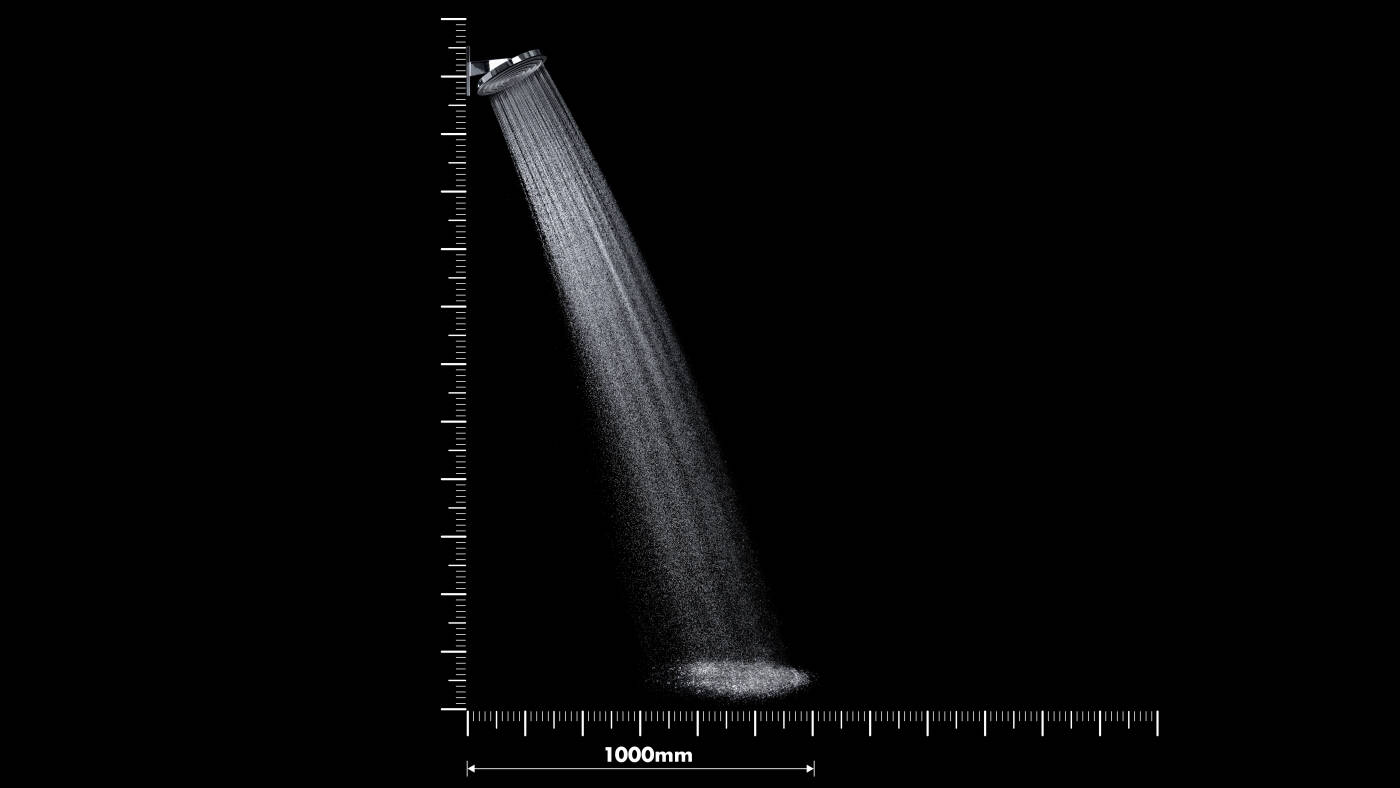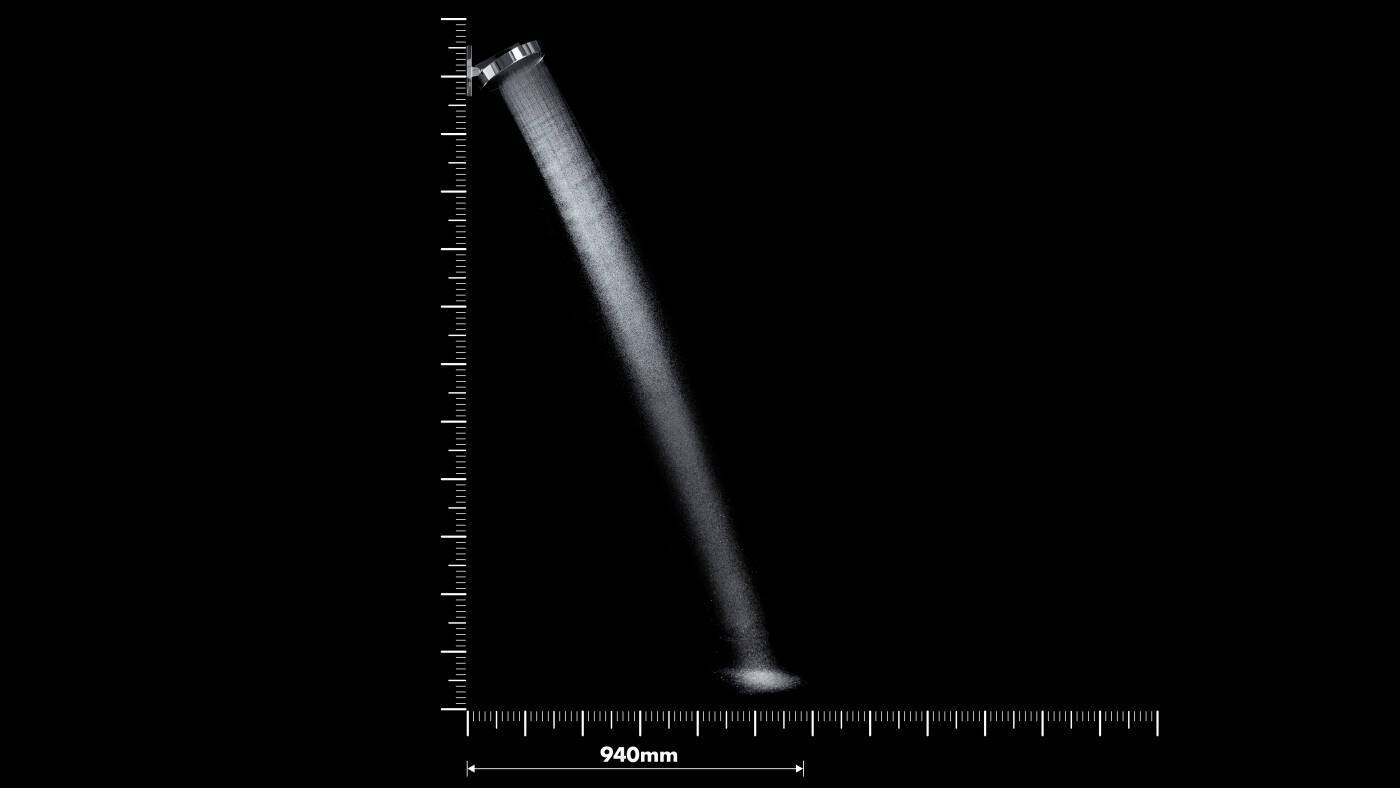 Optimal rain showers for shower areas of 120 x 100 cm and larger
For conventional as well as walk-in shower areas 120 x 100 cm in size, you can recommend and install the hansgrohe Pulsify S 260 overhead shower with angle adjustment. This model is also ideal for even larger shower areas. The flow pressure and inclination angle differ in each of the example throw ranges.
As a reminder, be sure to check the water pressure in your customer's bathroom before making a recommendation.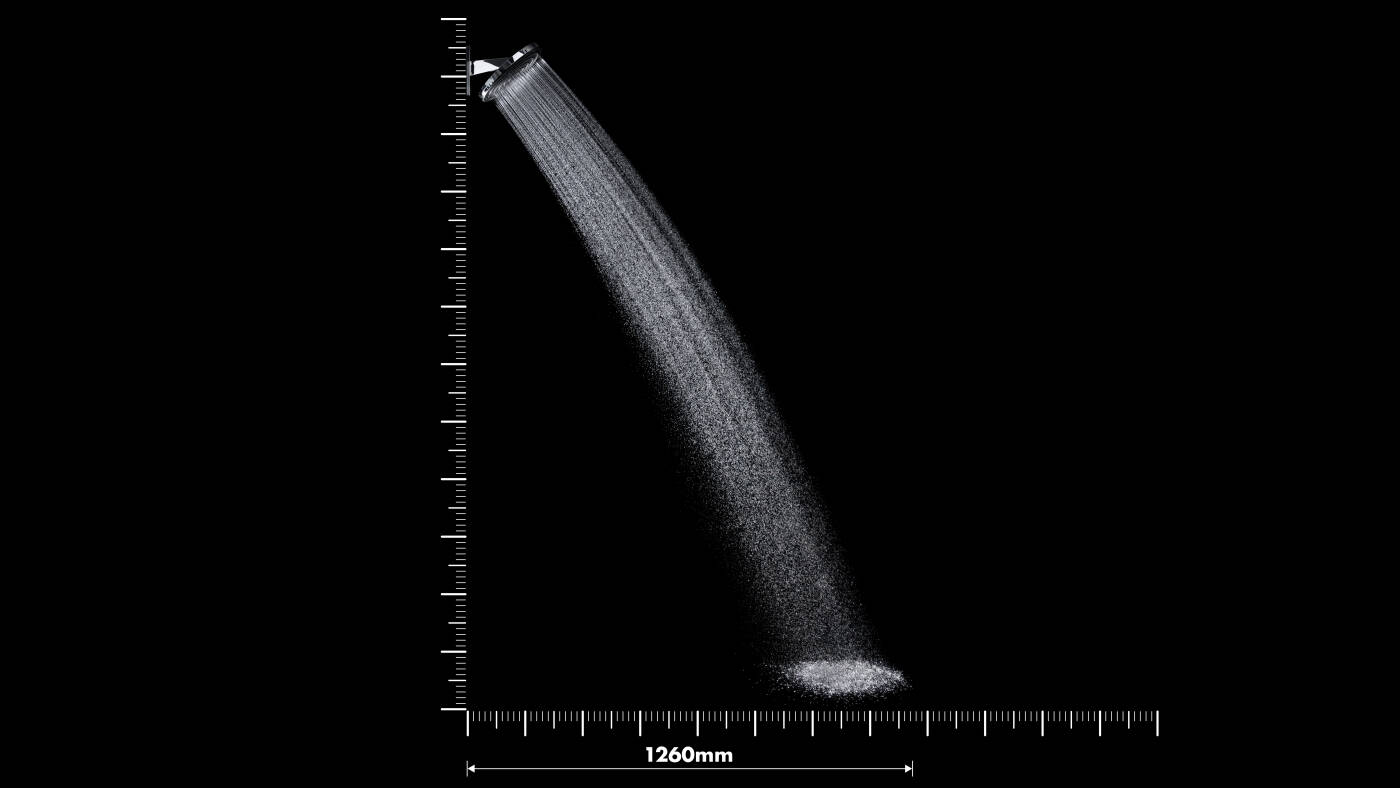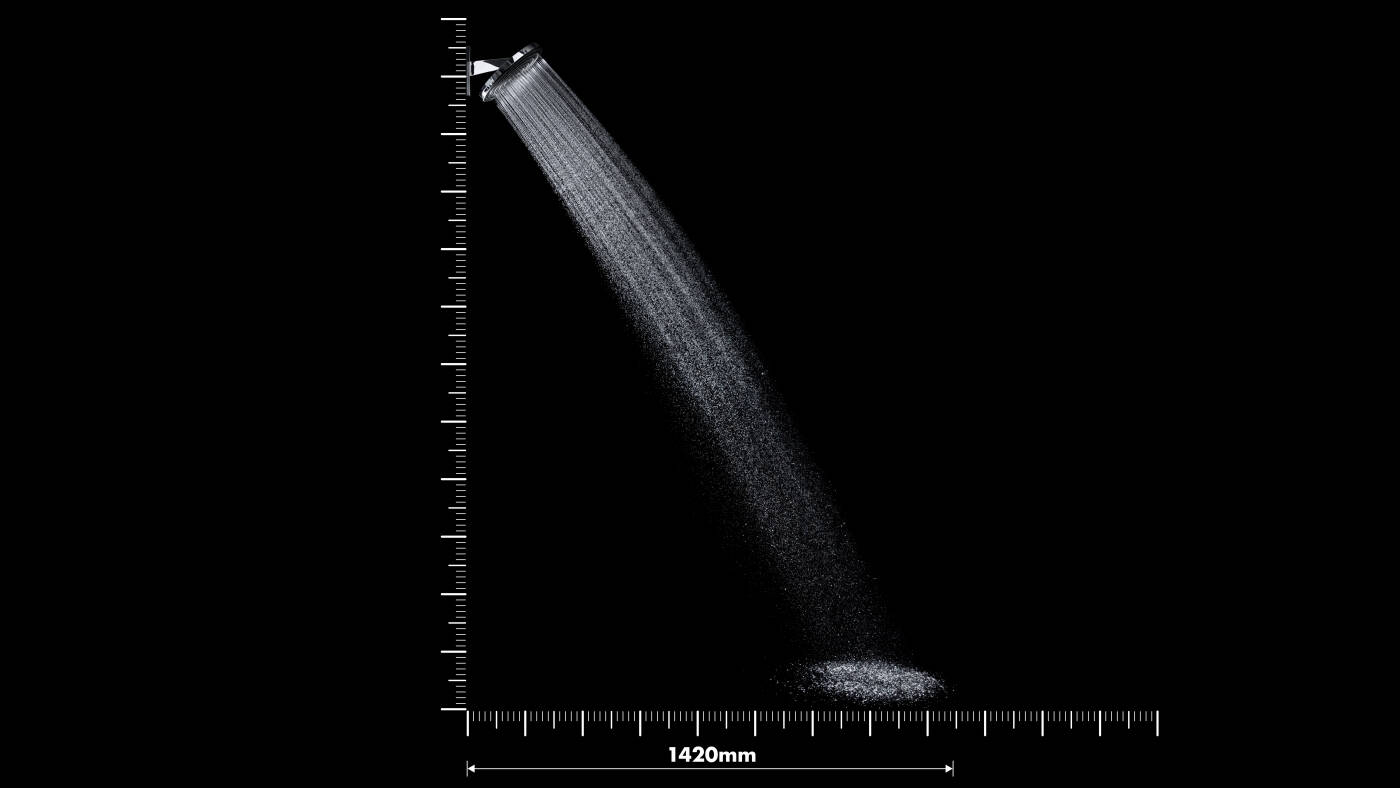 *Important information on the measurement data in our practical test
The angle-adjustable hansgrohe overhead showers were installed at the standard height of 2.05 m.
The spray throw ranges were measured under practical conditions at flow pressures of 2 and 3 bar, in front of the associated fittings (thermostat/faucet/concealed valve).
Slight variations of up to +/- 50 mm should be anticipated when calculating the throw range. These have already been taken into account in the planning examples.
A test was carried out to determine the throw range of the PowderRain spray mode. In the case of multi-spray overhead showers that also produce Intense PowderRain, the values may deviate slightly.
Pulsify and Rainfinity: Adaptable artists for every bathroom
Hansgrohe Spray Research: Where wellness is scientifically developed
It is the only one of its kind in the entire industry: Hansgrohe Spray Research. In our modern research and development laboratory in the Black Forest, a team of experts is working on clever technologies and features related to the water experience. Here, every product is put to the test using special methods. What does that mean? That what flows through AXOR and hansgrohe brand showers and faucets, and why, is anything but a coincidence. Our water design is scientific work that has been exhaustively tested and meticulously documented.
Why does Hansgrohe have its own spray research department?
Because parameters such as throw range, minimum flow rate, hygiene standards, and acoustic group must be 100 percent reliable for sanitation professionals and customers worldwide.
Because we want to offer unique wellness experiences and make our customers' lives easier through diverse and customizable spray modes.
Because premium products require first-class development conditions – and only the highest-quality objects are sustainable.
Because, as a Green Company, we consider it our duty to design products that save water and energy. Because every drop and every kilowatt hour counts for our planet.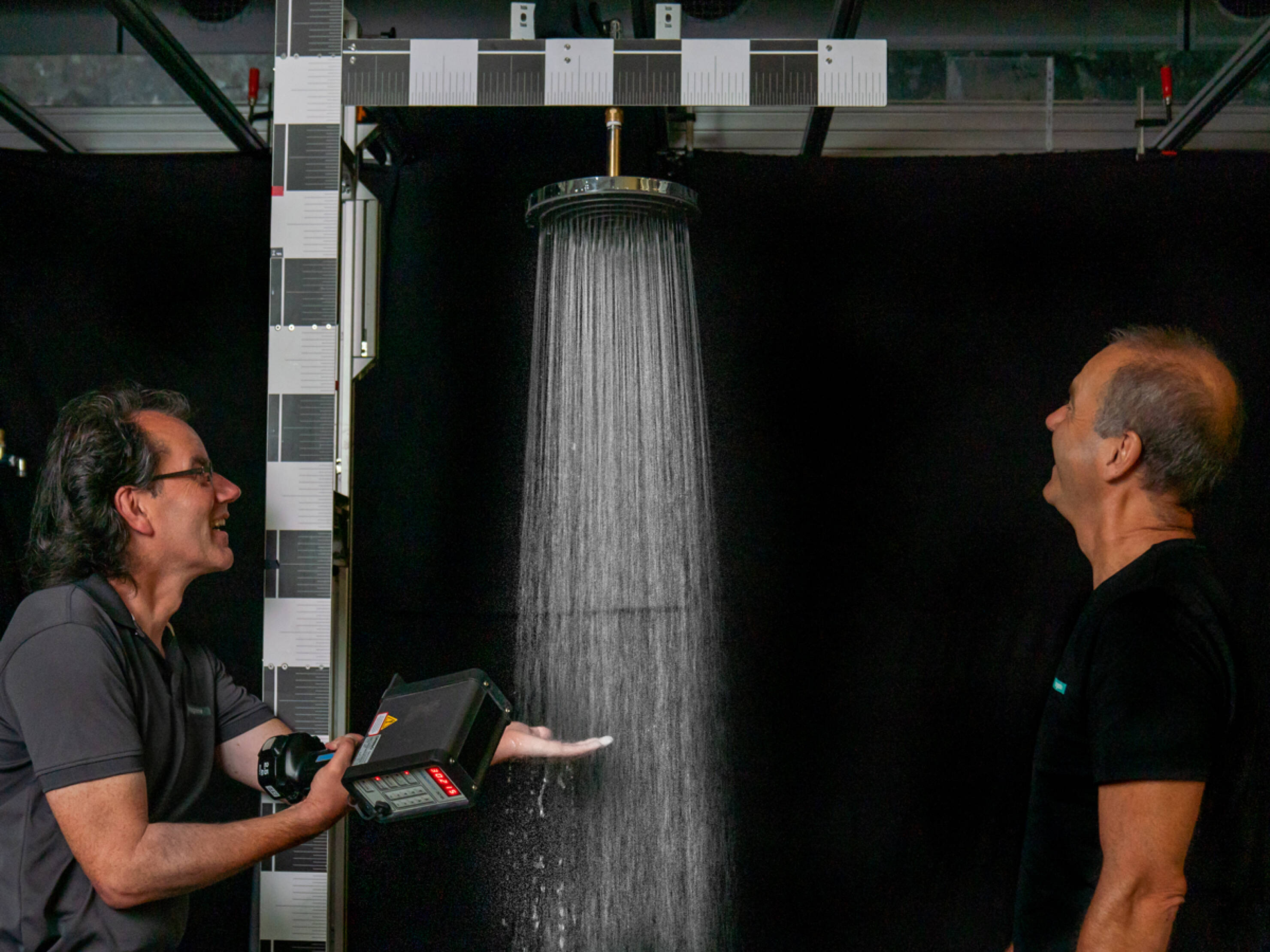 What our spray researchers have to say about their specialized jobs