Value-added service for fewer complaints
Maintenance & cleaning guide for you and your customers
An angry customer complains about a tap or shower that they obviously haven't cleaned correctly. Now it's damaged. This sort of situation doesn't exactly put professionals in a good mood. Especially as limescale, dirt and grease can be easily and gently removed. Our advice? Give customers a few cleaning tips when you sell the AXOR and hansgrohe products. It's great customer service and keeps everyone happy.
The correct way to clean hand and overhead showers: Remove limescale, avoid damage
Keeping up with cleaning shower heads, even in large overhead showers: It's not rocket science. But the high-quality surface finish or even the inner workings of the product could be damaged with the wrong substances and methods. In the worst-case scenario, it will reduce functionality.
Your customers should do the following to prevent this from happening:
Always use a soft, clean cloth. Never use abrasive materials such as sponge scourers or microfibre cloths;

Do not use a steam cleaner, as high temperatures could damage the showers;

Only use gentle cleaners, for example citric acid-based products;

Never use any cleaning agents containing hydrochloric acid, formic acid, chlorine bleach or acetic acid – they're far too aggressive. Even cleaners containing phosphoric acid can only be used to a limited extent.

Never mix cleaning products;

Never spray cleaning agents directly onto showers – spray mist can get into the shower and cause damage. Instead, spray cleaning agents onto a soft cloth and use this to wipe the surface;

Then thoroughly rinse and flush out the showers with clean water.
The correct way to clean sink mixers: as clean as a whistle and free of limescale in an instant
To ensure heat, cold, grease or acids have nothing on the premium surface finishes of AXOR and hansgrohe kitchen taps, your customers should clean them properly on a regular basis. This will prevent any possible consequential damage due to limescale build-up.
Never clean kitchen taps with aggressive cleaning products. Keep your hands off chlorine bleach, formic, acetic or hydrochloric acids, polishes or sponges.

We recommend citric acid-based products. Cleaners containing hydrochloric acid or acetic acid should not be used, as this could cause enormous damage.

Do not spray the cleaner directly onto the tap or mix cleaning products. It's better to apply it to a soft, lint-free cotton cloth. After wiping and leaving it to take effect, rinse thoroughly with clean water.

Then wipe dry with a dry cloth for sparkling shine.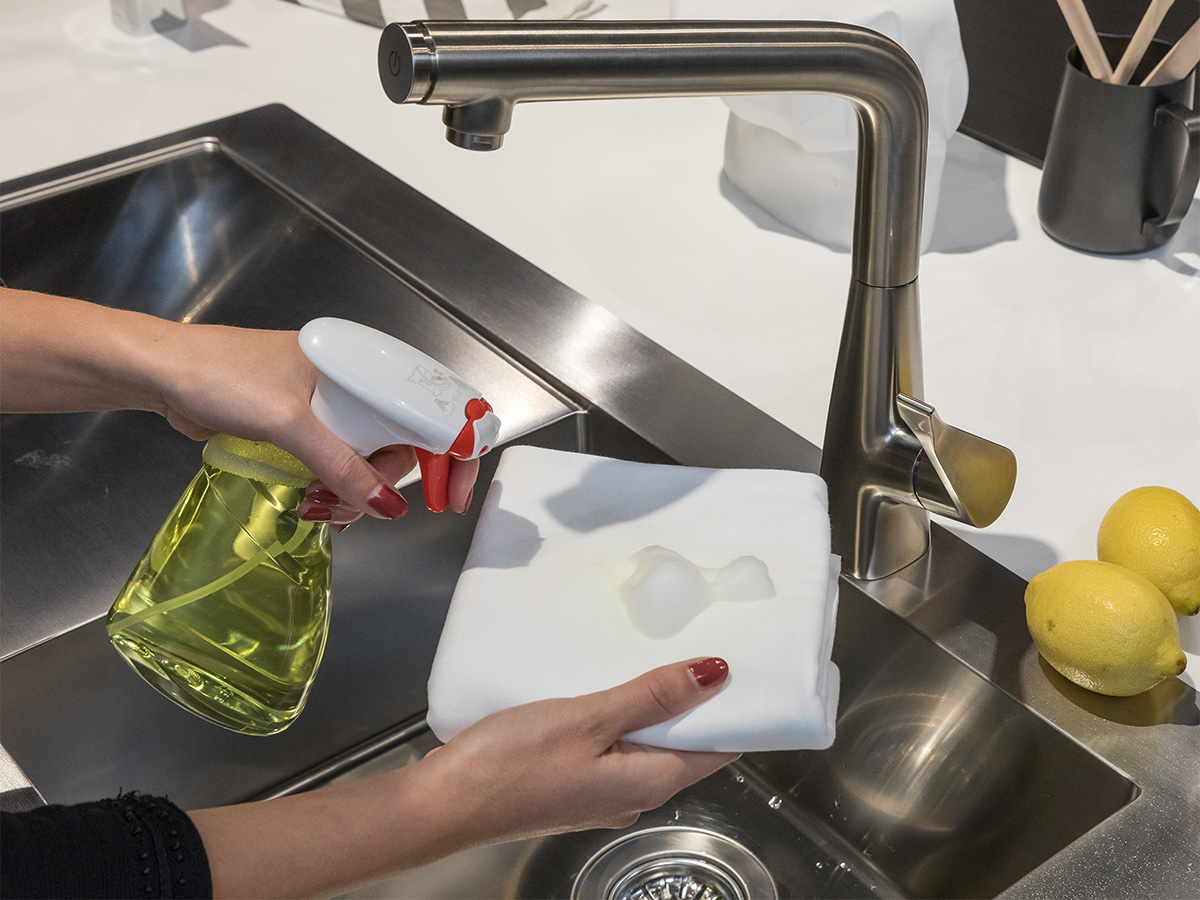 The correct way to clean the bathroom tap and aerator: clean and limescale-free in five steps
Step 1: It is best to clean bathroom taps with a soft cotton cloth that is only moistened if required. A light wipe should get rid of most of the dirt. Please do not use any metal scourers, brushes or micro-fibre cloths.

Step 2: Limescale residues love to hang out in corners and grooves. You can use a mild citric acid-based cleaner here. Important: Do not spray the concentrate on the tap itself. Spray on a cloth instead and then wipe.

Step 3: Thoroughly rinse the tap using clean water.

Step 4:Repeat the first step again to completely remove residues and to give the surface a sparkling finish.

Step 5: If the spray pattern no longer cascades nicely, the aerator is probably suffering from limescale build-up. Place it in warm water with a splash of cleaner and the deposits will easily come loose.
QuickClean: Simply rub off limescale and dirt with a finger
Many households suffer from
hard water
. We have fitted many AXOR and hansgrohe taps and showers with
QuickClean technology
to make it easier to clean bathroom and kitchen products. Residue can be effortlessly removed mechanically thanks to this quick anti-limescale feature. For customers, this means less cleaning and a nicer spray pattern.