Electronic faucets
More hygiene, cleanliness in the bathroom for multiple users
Are you looking for lavatory faucets for a sanitary facility in the public or commercial sector? Cleanliness and hygiene are especially important in places where multiple people wash their hands, and touch-free faucets are the first and best choice. We offer a selection of electronic faucets you can use to convince your customers, e.g. in the restaurant, hotel, event or office space.
Hands-free faucets facilitate contact-free hand washing
Convince your customers in their product selection with these arguments:
No contact with the faucet or operating lever improves hygiene at the sink, something that's appreciated by users, especially in high-traffic facilities.
Ease of use. The optimal water temperature is preset by the sanitation professional or operator. No hot surprises thanks to temperature limitation.
Profitability. Water only flows when it's needed. This saves resources in consumption and energy consumption for hot water preparation. Electronic faucets with EcoSmart technology are particularly water-saving (5 l/min.).
Easy to maintain. The electronic faucets' closed design reduces the risk of damage while also facilitating maintenance. A manual faucet water stop is also available for cleaning the sink.
Design. Reduced to the essentials, the design makes many electronic faucets and concealed installation faucets with sensor technology into eye-catchers. This allows special accents to be set, not least in the guest bathroom with design requirements.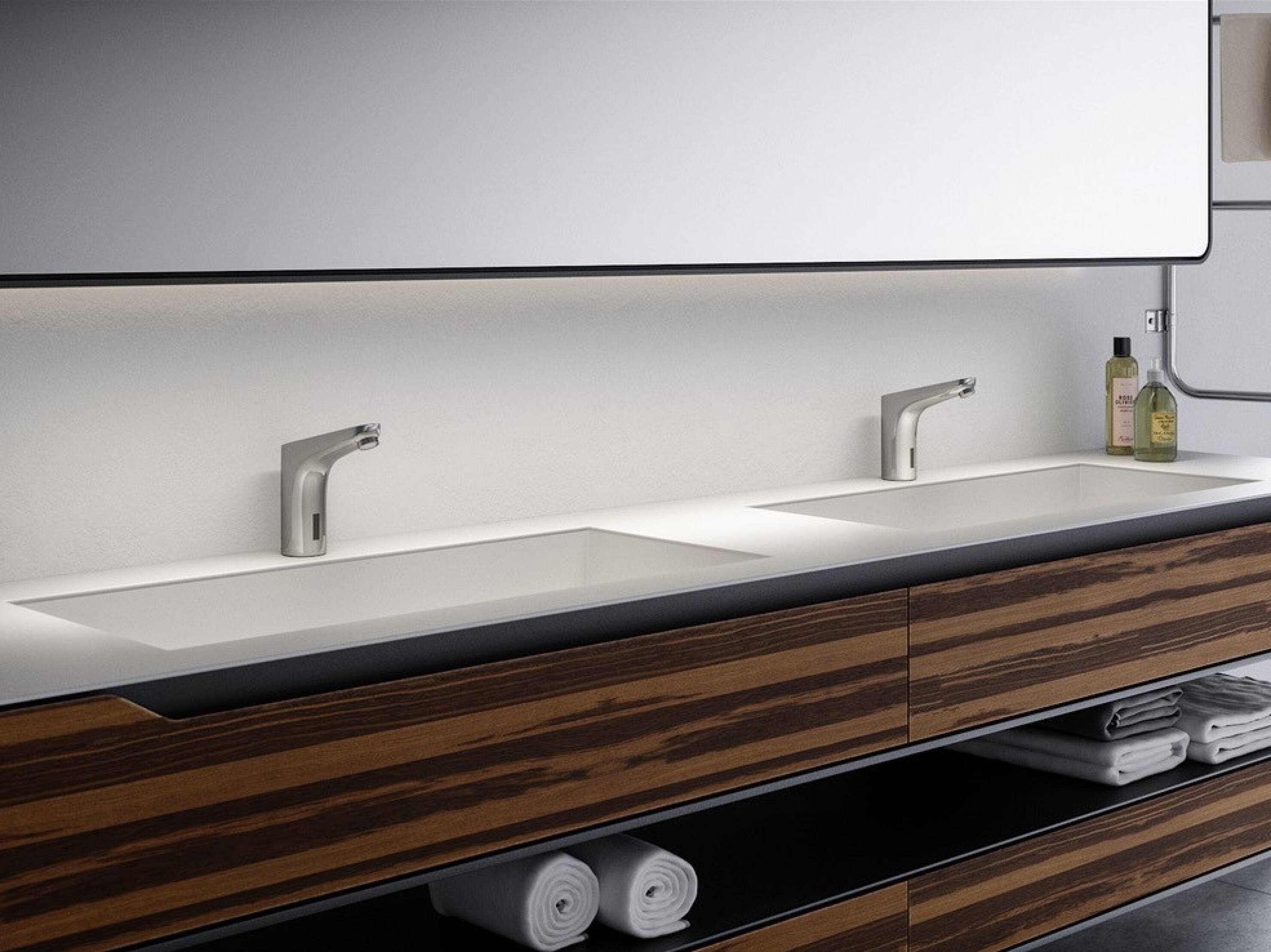 Design and utmost functionality
​​​​​​​In the upscale property sector, but also in private construction, sanitation installation is becoming a company calling card, reflecting appreciation for guests, employees, and customers. Sensor-controlled water outlets set special design accents at the sink and underscore operators' dedication in hotels and restaurants. The touch-free lavatory faucets from AXOR and hansgrohe convince through the combination of aesthetics and functionality.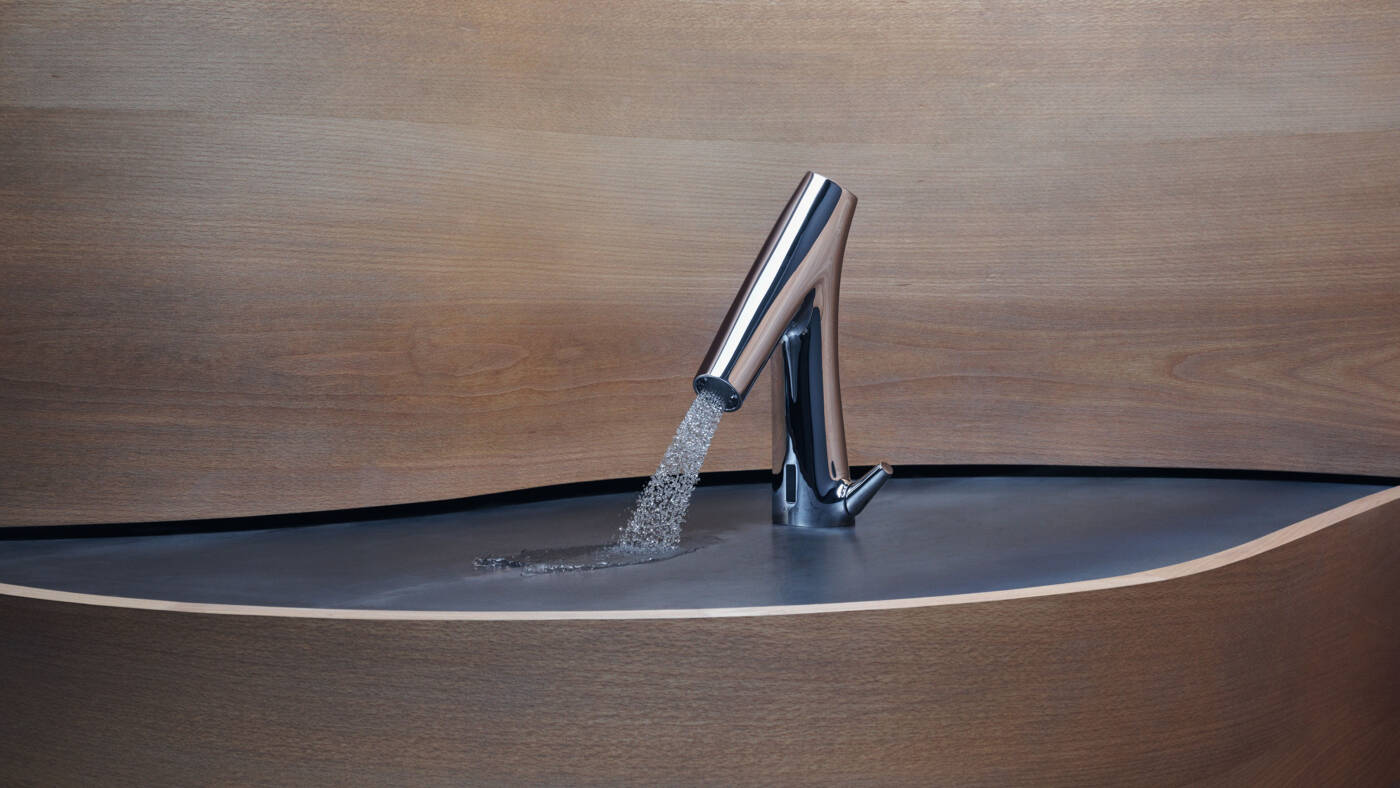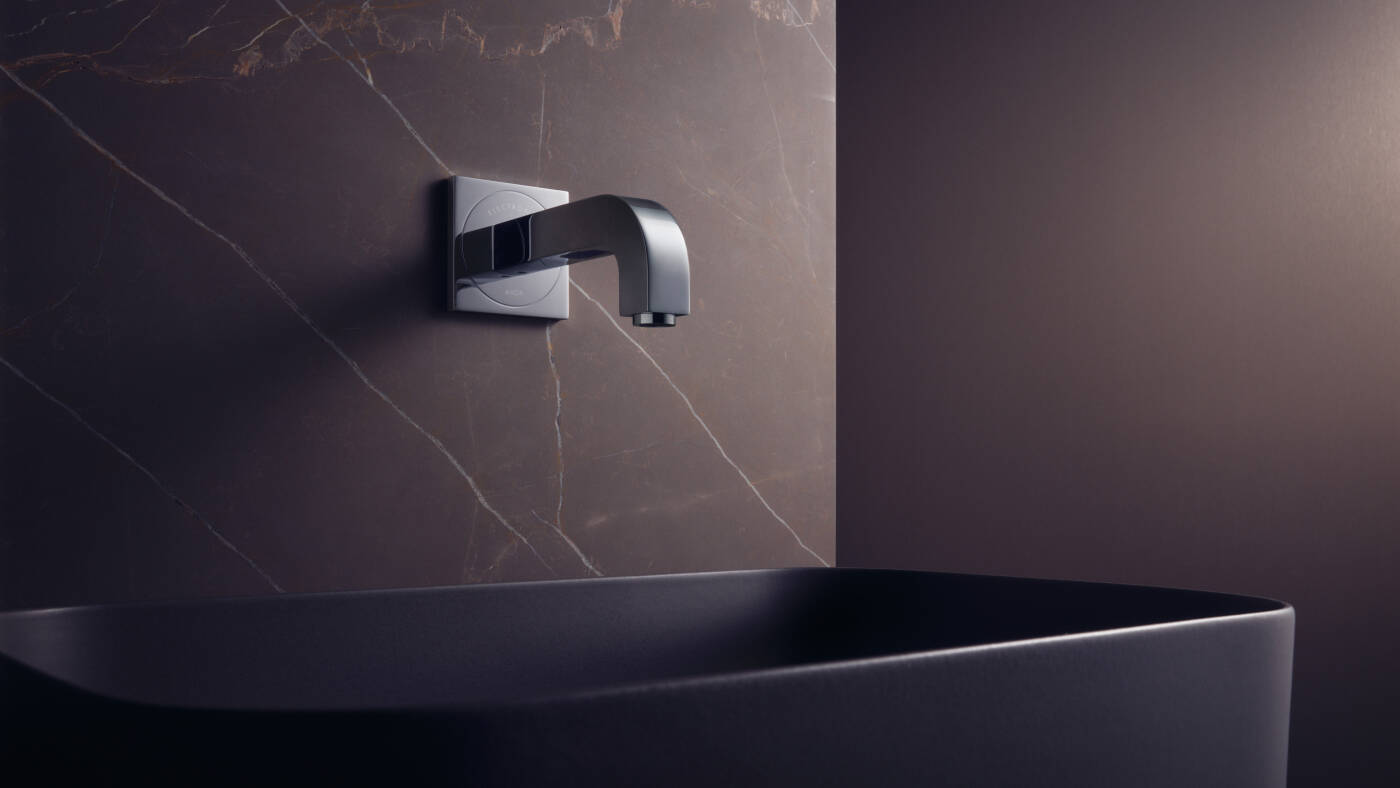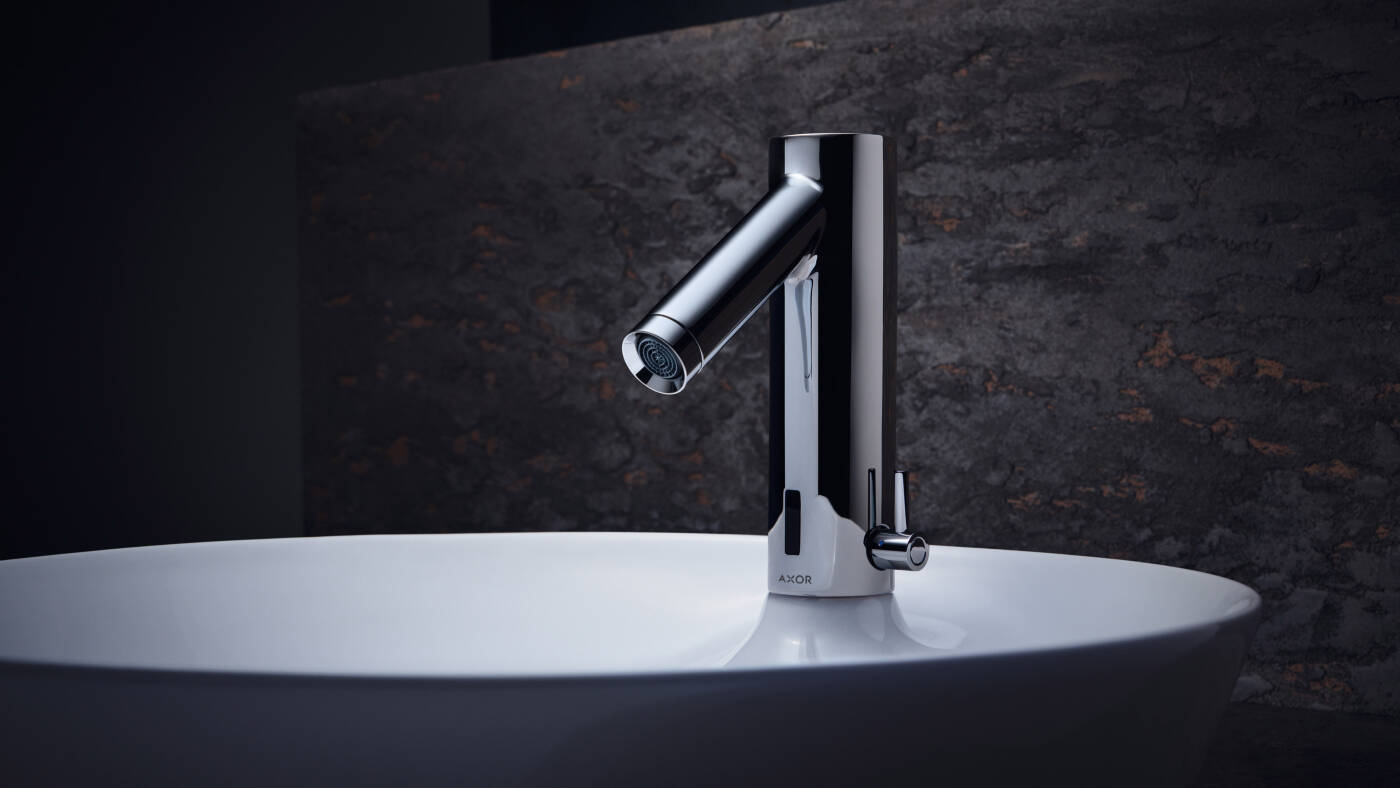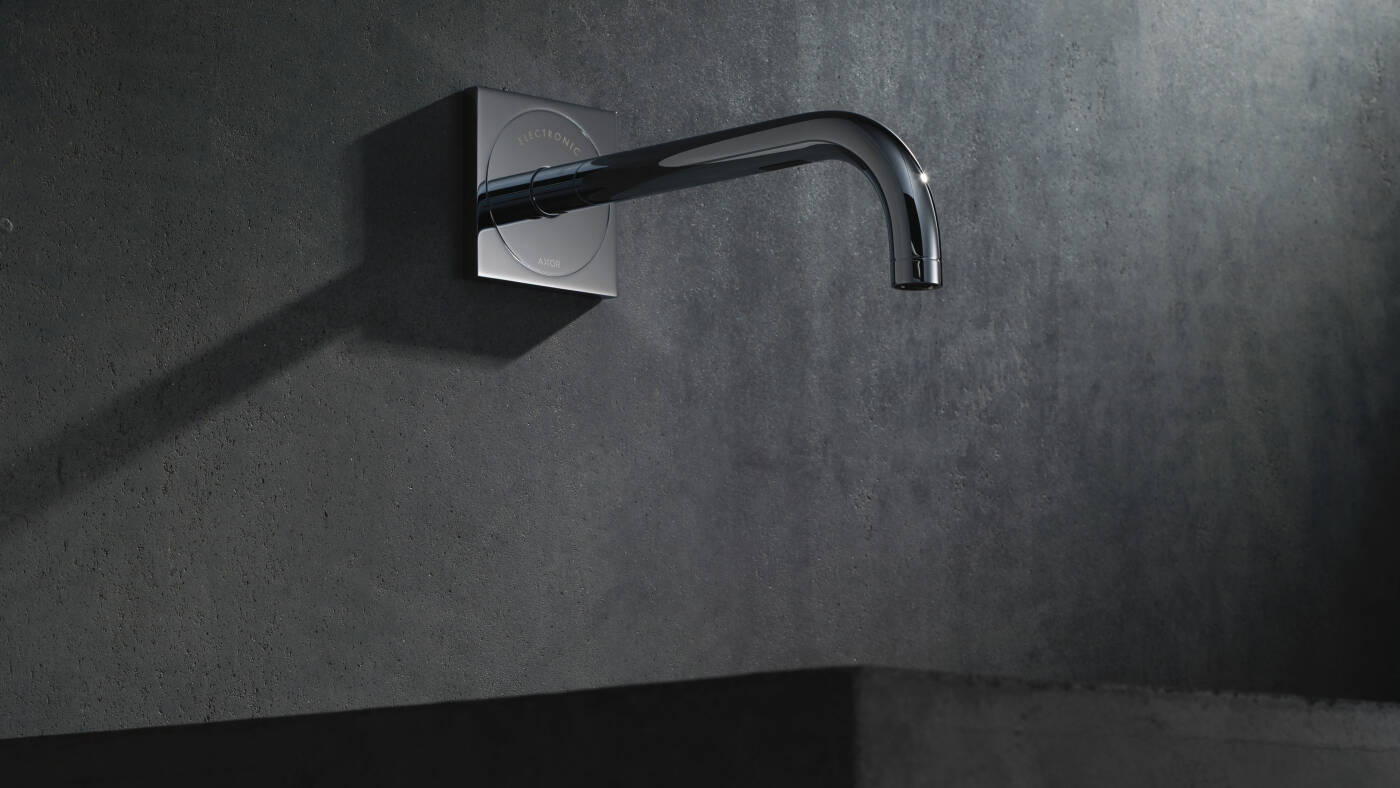 Select: Mains or battery operation, with or without temperature control
Hands-free lavatory faucets with infrared electronics are available for mains operation or with batteries. The faucets can be mounted on any sink or mounted as a concealed installation variant. Mains operation requires a power connection.
The electronic faucet with mains operation uses a socket under the sink that's connected to the included transformer for an extra-low voltage of just 6 V. The box is also located under the sink and connected to the faucet.
The battery-operated lavatory faucet draws its low voltage from a 6 V battery (type CR-P2). The included box for this purpose is connected to the faucet under the sink. The replaceable battery lasts for about 2 years of hand washing.
Simple onsite adjustment with sensor activation
The sensor electronics need to be adjusted to the sink, which is done automatically with our electronic faucets during the initial setup. You can then set the water temperature required by the customer for the touch-free faucet. For individual temperature adjustment, some electronic faucets have a mix lever on the body of the faucet.
Hygiene flushing and thermal disinfection
The electronic faucets from AXOR and hansgrohe offer an additional argument when it comes to drinking water hygiene with the automatic hygiene flush. An automatic water flow can be programmed in temporarily unused sanitation facilities (e.g. hotel rooms, event spaces), where standing water can cause the formation of germs. This hygiene flush is triggered for ten seconds, 24 hours after the last operation, allowing fresh water to flow through the pipelines and faucet. In addition, a continuous three-minute rinse is available for thermal disinfection.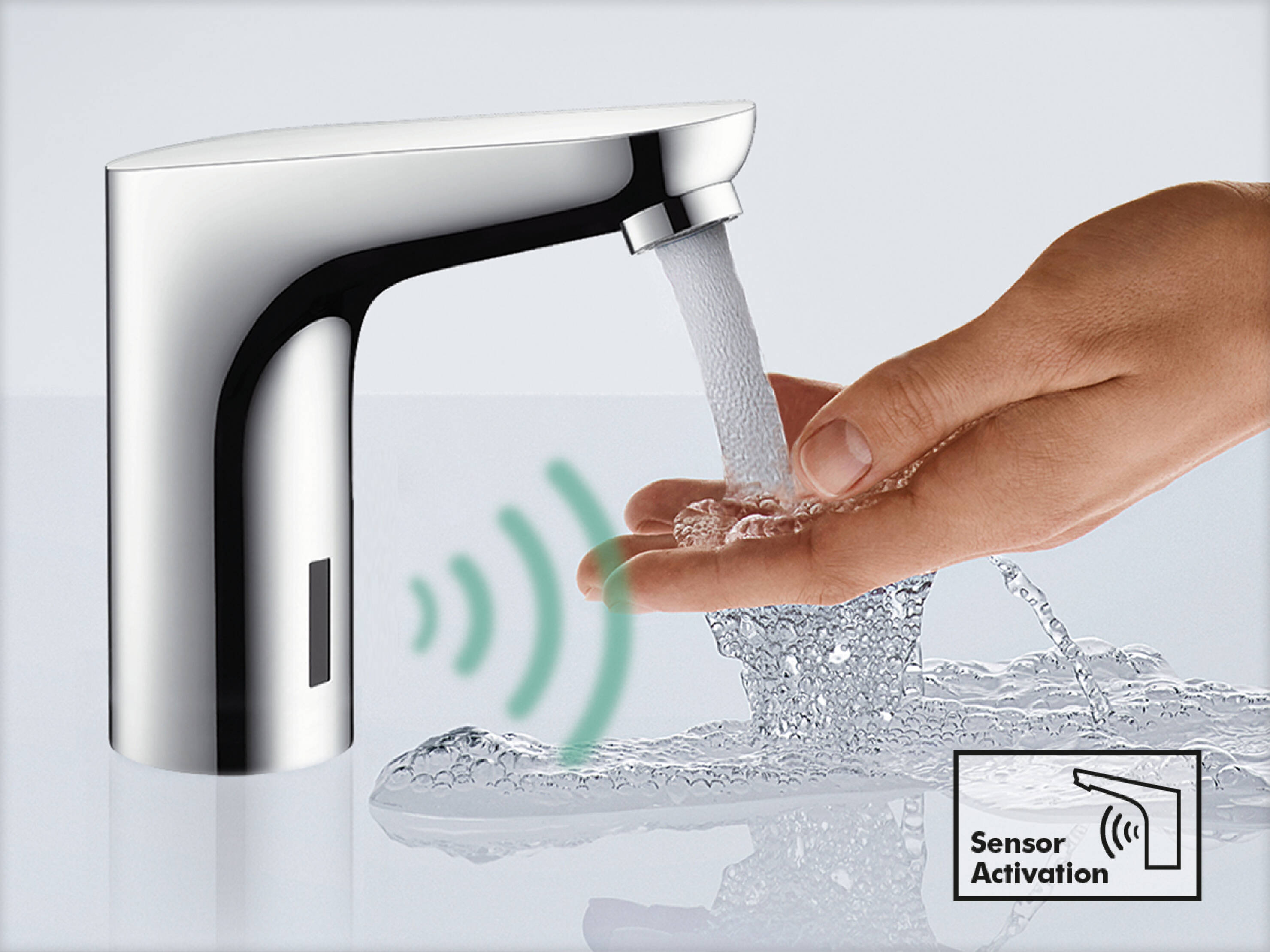 Electronic lavatory faucets from AXOR and hansgrohe
Still have questions? Contact: