AXOR taps in a special surface finish
This luxury residence offers a whole new level of hospitality – even in the bathroom
People who stay or eat here can enjoy a unique experience in Munich – and AXOR Urquiola taps in the brushed bronze special surface finish: The BEYOND by Geisel is a luxury residence that completely redefines hospitality. With exclusive services and elegant furnishings that are perfectly complemented with customised AXOR taps.
Intensify the guests' luxury experience: refined AXOR taps
A completely new kind of hospitality: The BEYOND in Munich features 19 elegantly furnished guest rooms, a 24-hour communal kitchen with top-quality furnishings, a lounge and a wine bar. The luxury residence's exclusive services include a private chef who can be hired to wine and dine guests and a concierge who is always on hand with tips for Munich by day and Munich by night.

Its combination of elegance and intimacy transforms the BEYOND into a place that is meant to feel like home. To achieve this sensation, the residence gives guests the option to order their favourite dishes at any time, to use to open-plan communal rooms for meetings, to invite friends over and entertain them – or to retreat to their exclusive room, where customised taps from the AXOR Urquiola collection in the special surface finish of brushed bronze await. They are beautifully refined and every bit as elegant as the residence itself, which enhances the guests' luxury experience in the bathroom.

"The BEYOND by Geisel combines personality and exclusivity. AXOR offers a level of customisation and luxurious attention to detail that underpin this exact idea," said Robert Schröder, Resident Manager, BEYOND by Geisel.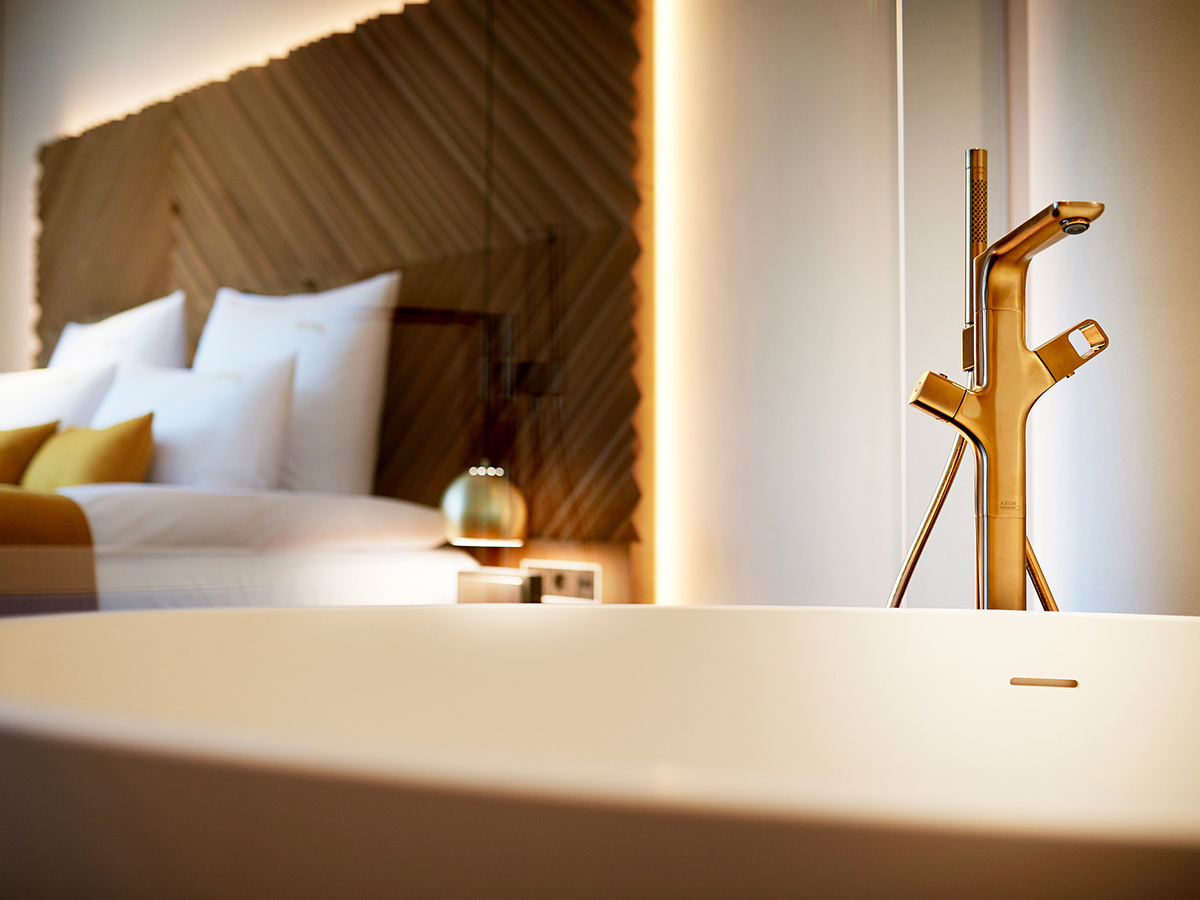 Exclusiveness in a shade of bronze: AXOR Urquiola in the brushed bronze special surface finish
The planners and managers of the BEYOND opted for AXOR Urquiola taps in the brushed bronze special surface finish when furnishing the residence's bathrooms. With their brushed surface finish in a shade of bronze, the designer taps have a warm, luxurious charm and an extraordinary shape reminiscent of industrial designs of the 1970s. Just as the residence itself represents the combination of exclusivity and personality, the AXOR Urquiola taps give the bathroom a unique and wonderfully home-like feel.
As with all the special surface finishes, brushed bronze is part of the extensive
AXOR FinishPlus
colour palette. Not only is the tap in an elegant colour, it also has an extra metal layer from the PVD production process, which makes it extremely resistant to external factors such as scratches or cleaning products. AXOR taps with FinishPlus surface finishes are therefore predestined for areas susceptible to frequent use, such as hotel bathrooms or bathrooms in a luxury residence, i.e. the BEYOND in Munich.