Digital know-how for plumbers
hansgrohe SmartExpert App: Helps you install Smart Living systems
Are you a plumber who wants to install Smart Living products from hansgrohe for your customers? Then you've come to the right place. The hansgrohe SmartExpert app is your professional companion to guide you through the installation and commissioning of RainTunes and RainButton. With it, you can become an expert on our digital shower systems.
Why do you need the hansgrohe SmartExpert app, and what can it do?
With the hansgrohe SmartExpert app, you can put the finishing touches on your customer's digital shower system, which means:
You configure the ready-assembled RainTunes products.
You assign the RainButton their respective functions – overhead shower, hand shower, or shoulder shower. 
You set the temperature unit, check the correct screen orientation of the RainScreen, etc. 
You keep control of the digital shower system from A to Z – with the system check. 
And your customers? Not only will they appreciate your craftsmanship, but also your digital expertise.
How to become a system checker, interface manager, and smart expert
Step 1. To download the hansgrohe SmartExpert app, please register on our ProService specialist partner website.
Step 2. You can get the hansgrohe SmartExpert app via iTunes or Google Play – free of charge, of course. Download the app to your iPhone/iPad or Android smartphone and then you can get started right away. 
Features of the hansgrohe SmartExpert app 
Configuration of the RainButton system, see above. 
Training mode. This simulates a successful connection between iBox Hub and the app for the entire installation process. This allows you to configure the RainButton shower system in advance, in "dry mode." 
Partner products. Here, you can benefit from information and promotions from hansgrohe RainTunes partners such as Philips Hue or ad notam.
Consultation protocol. Go through with your customers and clarify, for example, whether they would prefer to control their shower with RainButton or RainPad.
Book a service slot. Here, you can book an appointment with a hansgrohe installation expert who will coach you on the Smart Living products.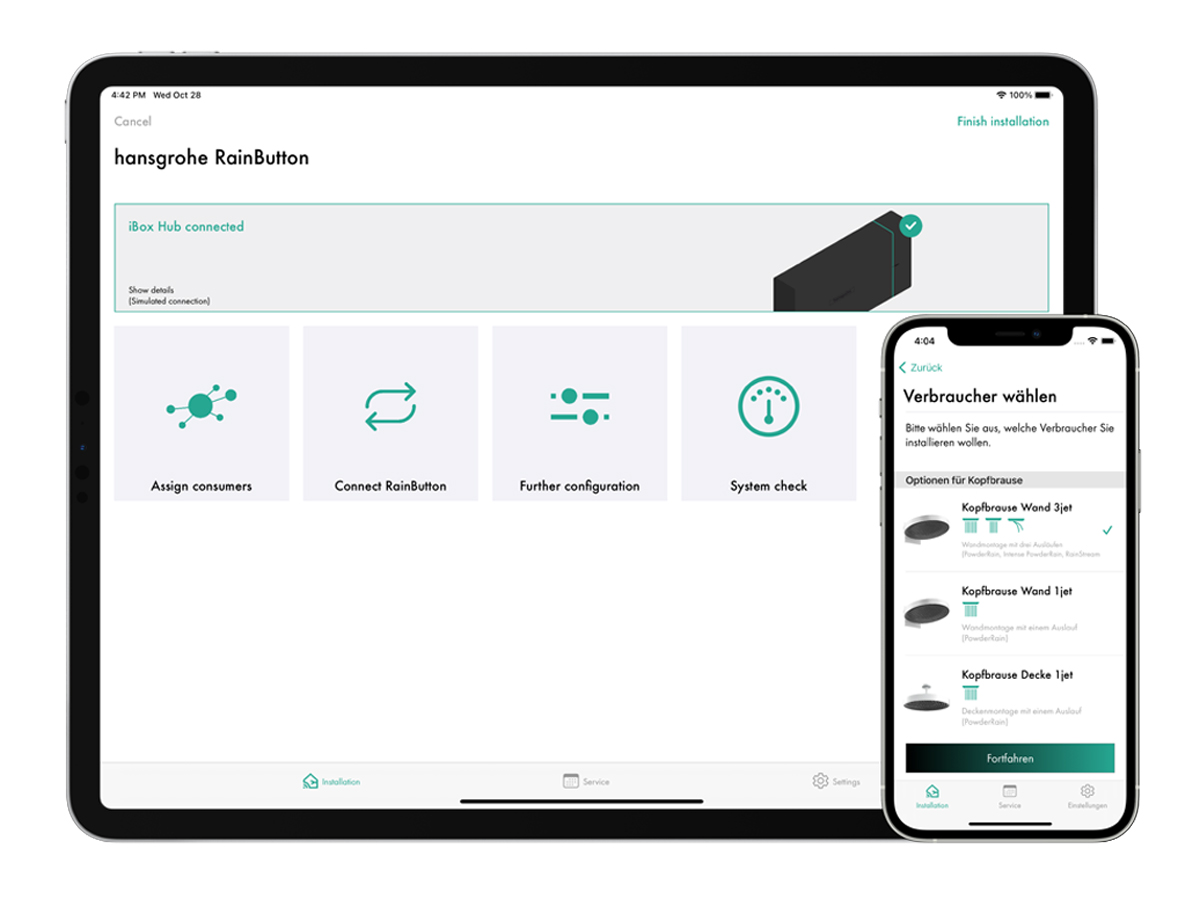 Let's gather know-how together for the future of the bathroom!
You now have the first version of the SmartExpert app installed on your smartphone or tablet. This is constantly being optimized and expanded by hansgrohe. In future updates, for example, you will find installation manuals for all digital hansgrohe shower systems, as well as important background knowledge on the topic of Smart Living.
Does your customer wants to enrich their RainTunes shower scenarios with light, video, and sound? Soon, the app will also allow you to configure products from our smart partners Philips Hue and ad notam. 
hansgrohe home app – for RainTunes and Pontos
When your work is done, your customers will be able to control the hansgrohe Smart Living products themselves, via the hansgrohe home app. It provides:
Our heartfelt request: Get an overview of the app's features as well. That way, you can provide your customers with competent support at any time.